PADA 1
joi-joi pyāro kare soi mohi bhāve, bhāve mohi joi soi-soi kare pyāre | 1 |
moko to bhāvatī taur pyāre ke nainan mei, pyāro bhayo chāhe mere nainan ke tāre | 2 |
mere tann mann prān hu tei prītam priya, apne kotik prān prītam moso hāre | 3 |
(jay-shrī) hit harivansh hans hansinī sāval gaur, kaho kaun kare jal-tarangan nyāre | 4 |
---
PADA 2
pyārei bolī bhāminī āju nīkī jāminī, bheint navīn megh sau dāminī [1]
mohan rasik rāirī māi, tāso jumān kare aisī kaun kāminī [2]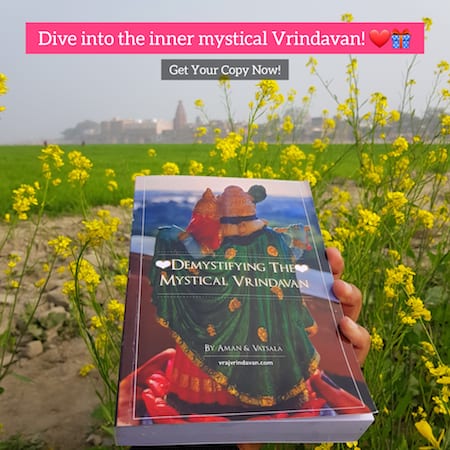 ---
The book 'Demystifying The Mystical Vrindavan' is the essence and crux of this entire website.
If you are considering to dive into the final goal of our Vedic Scriptures and spiritual life, and if Radharani inspires you, do get a copy of the book .
---
(jay-shrī) hit harivansh shravan sunat pyārī, rādhikāraman sau milī gaj gāminī [3]
---
PADA 3
prāt samay dou ras lampat, surat-juddh jay-jut ati fūl | 1 |
shram-vārij ghan-bindu vadan par, bhūshan angahi ang vikūl | 2 |
kachu rahyo tilak sithil alakāvali, vadan kamal mānau ali bhūl | 3 |
(jay-shrī) hit harivansh madan-rang rangi rahe, nain-bain kati sithil dukūl | 4 |
---
PADA 4
āju tau juvati tero vadan ānand bharyo, piya ke sangam ke sūchat sukh-cheyn
ālas-valit bol surang range kapol, vithakit arun unīnde dou neyn
ruchir tilak-lesh kirat kusum-kesh, sirr sīmant bhūsit māno teyn
karunākar udār rākhat kachu na sār, dasan-vasan lāgat jab deyn
kāhe ko durat bhīru palate prītam chīr, bas kiye shyām sikhe sat meyn
galit urasi māl, sithil kinkinī jāl, (jay-shrī) hit harivansh latā-griha seyn
---
PADA 5
āju prabhāt latā-mandir mein, sukh barsat ati harakhi yugal var | 1 |
gaur shyām abhirām rangbhare, lataki-lataki pag dharat avani par | 2 |
kuch-kumkum ranjit mālāvali, surat nāth shrī-shyām dhām dhar | 3 |
priyā prem ke ank alankrit, chitrit chatur-shiromani nijkar | 4 |
dampati ati anurāg mudit kal, gān karat mann harat paraspar | 5 |
(jay shrī) hit harivansh prasansh-parāyan, gāyan ali sur deyt madhuratar | 6 |
---
PADA 6
kaun chatur juvatī priyā, jāhi milat lāl chor ve reyn [1]
durvat kyonba dure suni pyāre, rang mein gahile cheyn mein neyn [2]
urr nakh - chandra virāne pat utpate se beyn, (jay shrī) hit harivansh rasik, rādhāpati pramathit meyn [3]
---
PADA 7
āju nikunj manju mein khelat, naval kishor navīn kishorī [1]
ati anupam anurāg paraspar, sunn abhūt bhūtal par jorī [2]
vidrum fatik vividh nirmit dhar, nav karpūr parāg na thorī [3]
komal kishalay sayan supesal, tāpar shyām nivesit gorī [4]
mithun hās-parihās parāyan, pīk kapol kamal par jherī [5]
gaur shyām bhuj kalaha manohar, nīvī-bandhan mochat dorī [6]
hari urr mukur viloki apanapau, vibhram vikal mān jut bhorī [7]
chibuk suchāru praloi prabodhat, piya prativimb janāy nihorī [8]
neti-neti bachanāmrit suni-suni, lalitādik dekhat duri chorī [9]
(jay shrī) hit harivansh karat kar-dhūnan, pranayakaup mālāvali torī [10]
---
PADA 8
ati hī arun, terei nain nalin rī |
ālasjut itrāt rangmage, bhay nishi jāgar makhin malin rī | |
sithil palak mei uthat golak gati, bindhyo mohan mrig sakat chalin rī |
(jay shrī) hit harivansh hanskal gāmini, sambhram deyt bhramaran alin rī | |
---
PADA 9
banī (shrī) rādhā mohan (ju) kī jorī
indranīlmani shyām manohar, sāt kumbh tann gorī
bhāl vishāl tilak hari kāmini, chikur chandra bich rorī
gaj-nāyak prabhu chāl gayandini, gati vrishbhānu kisorī
nīl nichol juvati mohan pat, pīt arun sirr khorī
[jay shrī] hit harivansh rasik rādhāpati, surat rang mein borī
---
PADA 10
āju nāgarī-kishor bhānvatī vichitra jor, kahā kaho ang-ang param mādhurī [1]
karat keli kanth meli bāhudand gand-gand, paras saras rās-lās mandalī jurī [2]
shyāmsundarī bihār bānsurī mridang tār, madhur ghosh nupurādi kinkinī churī [3]
(jay shrī) dekhat harivansh āli, nirtanī sudhang chāl, vāri pher deyt prān deha-so durī [4]
---
PADA 11
manjul kal kunj desh, rādhā hari vishad vesh, rākā nabh kumud-bandhu sharad jāminī
sānval duti kanak ang, viharat mili ek sangh, nīrad manau nīl madhya lasat dāminī
arun pīt nav dukūl, anupam anurāg mūl, saurabhyut shīt anil mand gāminī
kisalay dal rachit sheyn, bolat piya chātu beyn, mān sahit pratipad, pratikūl kāminī
mohan mann mathat mār, parsat kuch nīvī-hār, bepathyut neti-neti badat bhāminī
narvāhan prabhu sukeli, bahuvidhi bhar bharat jheli, saurat ras rūp nadī jagat-pāvanī
---
PADA 12
chalahi rādhike sujān, tere hit sukh nidhān, rās rachyo shyām tat kalind nandinī | 1 |
nirtat yuvatī samūha, rāg rang ati kutūha, bājat rasmūl muralikā anandinī | 2 |
banshīvat nikat jahā, param ravan bhūmi tahā, sakal sukhad malay bahai vāyu mandinī | 3 |
jātī ishad vikās, kānan atisay suvās, rāka nishi sarad mās, vimal chandinī | 4 |
narvāhan prabhu nihār, lochan bhari ghosh nāri, nakh sikh saundarya, kām dukh nikandinī | 5 |
bilasahu bhuj grīv meli, bhāminī sukh sindhu jheli, nav nikunj shyām keli, jagat-bandinī | 6 |
---
PADA 13
nand ke lāl haryo mann mor | 1 | |
hau apnei motin lar povat, kākar dāri gayo sakhī bhor | 2 | |
bank vilokan chāl cchabīlī, rasik siromani nand kisor | 3 | |
kahi kaisey mann rahat shravan suni, saras madhur muralī kī ghor | 4 | |
indu govind vadan ke kāran, chitvann ko bhayei nain chakor | 5 | |
(jay-shrī) hit harivansh rasik ras juvatī, tū le mil sakhī prān akor | 6 | |
---
PADA 14
adhar arun terei kaisei kei durāu | 1
ravi sasi sank bhajan kiyo apvas, adbhut rangan kusum banāu | 2
subh kausey kasib kaustubh-mani, pankaj-sutan lai angani lupāu | 3
harakhit indu tajat jaise jaldhar, so bhram dhūdhi kaha hau pāu | 4
ambun dambh kachū nahī vyāpat, himkar tapei tāhi kaisei kei bujhāu | 5
(jay shrī) hit harivansh rasik navrang piya, bhrikuti bhoh terei khanjan larāu | 6
---
PADA 15
apnī bāt mosau kahi rī bhāminī, aungī maungī rahat garab kī mātī | 1 | |
hau tosau kahat hārī, suni rī rādhikā pyārī, nishi ko rang kyo na kahat lajātī | 2 | |
galit kusum beinī, suni rī sārang-nainī, cchūtī lat acharā badat alasātī | 3 | |
adhar nirang rang, rachyau rī kapolan, juvati chalat gajagati arujhātī | 4 | |
rahasi ramī chabīle, rasan vasan dhīle, sithil kasan kanchukī urr rātī | 5 | |
sakhī sau suni shravan, vachan mudit mann, chalī harivansh bhavan muskātī | 6 | |
---
PADA 16
āju mere kahe chalo mrignainī | 1 |
gāvat saras juvati mandal mein, piya so mile bhale pikbainī | 2 |
param pravīn kok vidyā mein, abhinay nipun lāg - gati lainī | 3 |
ruprāsi suni naval kisorī, pal – pal ghatat chāndinī raini | 4 |
(jay shrī) hit harivansh chalī ati ātur, rādhāravan surat sukhdainī | 5 |
rahasi rabhas ālingan chumban, madan koti kul bhai kuchainī | 6 |
---
PADA 17
āju dekh brajsundarī mohan banī keli | 1 | |
ans-ans bāhu dei, kisor jor rup rāsi, manau tamāl arujhi rahī saras kanak beli | 2 | |
nav nikunj bhramar gunj, manju ghosh prem punj, gān karat mor pikan apne suraso meli | 3 |
madan mudit ang-ang, bīch bīch surat rang, pal-pal (shrī) harivansh pivat nain chashak jheli | 4 | |
---
PADA 18
suni mero vachan chabīlī shrī-rādhā, tei pāyo ras sindhu agādhā | | (1)
tū vrishbhānu gopa kī betī, mohanlāl rasik hasi bheitī | | (2)
jāhi biranchi umāpati nāyei, tāpei tei vanfūl bināyei | | (3)
jo ras neti neti shruti bhākhyo, tāko adhar sudhāras chākhyo | | (4)
tero rūp kahat nahi āvei, (jay shrī) hit harivansh kachuk jas gāvei | | (5)
---
(Note: Will be adding the Pada 19-84 shortly whenever Sriji inspires)
We are sorry that this post was not useful for you!
Let us improve this post!
Tell us how we can improve this post?