Dekhat Chhabili Ju Ki Chhabi Chhake Chhabi-Nidhi
Aisi Chhabi Dekhi Ali Drg Nahi Tariyai
Krishna, who is the treasure of All-Beauty, All-Attractiveness is captivated upon a glimpse of our Swamini Ji Shri Radha and is immersed in seeing Swamini Ji without even blinking His eyes.
Alabeli Chitavani Hansani Lalan Par
Manau Sukh Punj Rang Ke Pravah Dhariyai
The loving and caressing way how our Swamini Ji is looking at Her beloved Krishna appears as if She is showering bliss and happiness upon Him!
Chhin-Chhin Nai-Nai Chhavi Ki Tarang Chhata
Bivas Karat Pran Kaise Kai Sanbhariyai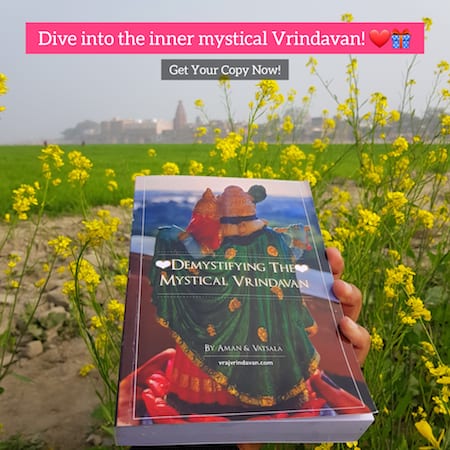 ---
The book 'Demystifying The Mystical Vrindavan' is the essence and crux of this entire website.
If you are considering to dive into the final goal of our Vedic Scriptures and spiritual life, and if Radharani inspires you, do get a copy of the book .
---
Krishna is continuously getting encapsulated by the ever-new, ever-fresh wave of glimpses of Swamini Ji's transcendental beauty. Shri Hit Dhruv Maharaj Ji says that how can Krishna compose Himself when the beauty of Radharani has completely bowled and captured His breath itself?
Hit Dhruv Pyari Ju Ke Charan Chinhani Par
Koti-Koti Rati Duti Mohani Si Variyai
Shri Hit Dhruv Maharaj Ji says that the Footprints of our Swamini Ji are such that one can excitingly and immediately leave the unlimited charming beauty of Rati (Kamadeva's consort) and Mohani (Goddess of Beauty) at once.
This pada (couplet) 'Dekhat Chabili Ju ki Chabi Chake Chabi Nidhi' is penned by Vrindavan Rasika Saint Shri Hit Dhruv Ji Maharaj in his rasamayi, famous Bayalis Lila composition glorifying the pastimes of our Divine Couple Shri Radha and Shri Krishna.
We are sorry that this post was not useful for you!
Let us improve this post!
Tell us how we can improve this post?