---
Explore the inner, serene and unexplored Vrindavan, away from hustle and bustle!
---
In the past few years, we have had few hundred thousands of sincere readers from over the world who have gone through our entire site, relishing so many articles and our book 'Demystifying The Mystical Vrindavan' on inner, esoteric and confidential Vraj Prema Bhakti.
To be frank, it was extremely overwhelming to see the various mails, calls and messages from the sincere readers globally. Back in mid-2019, I was inspired by Vrindavan Dham & Guru Tattva to simply write and translate words of Gurujana on this site for my own meditation of Radharani, Krishna, Guru Tattva and Vrindavan Dham. It's ONLY Their causeless mercy and karuna (compassion) that is on play here, and nothing related to me at all.
The Instagram stories of inner places that I travel in Vraj, and travel guide articles on this site also received a lot of enquiries if I can conduct tours in those inner places of Vrindavan and Braj region as people want nice experiences rather than traffic, rush and traditional tours in half-hearted way.
In the recent few years, specially post Covid lockdown in 2021, Vrindavan underwent serious change externally and has become extremely populated, and is hustling with commercial establishments and huge rush and traffic. It's very difficult to grab a good experience as one encounters huge traffic and rush.
The inner, original Vraj dreamy feel and experience is something very rare ones are aware of. The inner aspect is something less talked about. Hence, as Sriji and Guru Tattva inspire this morning, we are trying to design proper inner experiences of Vraj Bhumi for sincere seekers who wish to witness the inner places and aspects of Vrindavan!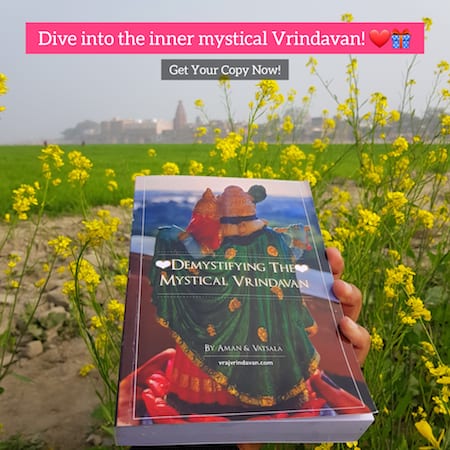 ---
The book 'Demystifying The Mystical Vrindavan' is the essence and crux of this entire website.
If you are considering to dive into the final goal of our Vedic Scriptures and spiritual life, and if Radharani inspires you, do get a copy of the book .
---
I travel around Vrindavan & Vraj region almost on a daily basis for my own meditation, and sincere like-minded devotees and pilgrims can join if they wish to get crafted personalised experience of Vraj Bhumi!
I am on the informal side, and love to have free conversation on subjects linked to Vrindavan, and interacting with sincere like-minded devotees from around the world.
---
---
---
You can choose from any of the above available experiences as per your convenience, desire and liking.
The better suggested idea from my side if you haven't visited Vrindavan Dham is to allow me to take you to the inner places in Vraj on an impromptu basis for a great experience. 
If you want a customised experience or have any urgent query, please WhatsApp or Call at +91 7004 963 467.
Jai Jai Shri Radhe!
Hare Krishna!
---
We are sorry that this post was not useful for you!
Let us improve this post!
Tell us how we can improve this post?