Gokul is located around 10 km from Mathura and is the place where Krishna spent the early part of His childhood in the care of his foster parents Nanda Baba and Yasoda Maiya.
Gokul is untouched with modern developments and feels very nature-friendly and quiet place to be. It retains that traditional vibe till date.
It is at Gokul where Krishna had killed the demon Putana and Trinavrata.
Gokul

Uthkal Lila Place (where Yasoda Maiya tied Krishna with ropes) in Gokul

Famous as
The place where Krishna showed entire universe in His mouth to Yasoda Maiya
Popular Spots
Brahmand Ghat, Nand Bhavan, Chaurasi Khambha, Raman Reti
District
Mathura
State
Uttar Pradesh
Country
India
Language
Hindi, Vraj Bhasha
PIN Code
281303
STD Code
0565
Vehicle Code
UP-85
Festivals Celebrated
Janmashtami, Holi, Nandotsav
History
Nanda Baba was the chief of Gokul and a dear friend of Krishna's father Vasudev.
After Krishna appeared in the jail in which Vasudev and Devaki were imprisoned by Kansa, all the prison doors opened naturally, and Vasudev started walking towards the Yamuna, who granted way after the feet of baby Krishna touched her waters.
Vasudev Ji came to Gokul and exchanged the baby Krishna with the just-born daughter of Yasoda (who was none other than Yoga Maya).
This way Krishna was raised up in Gokul. It is at Gokul that the Damodar Lila, passtime of Krishna showing the entire universe in his mouth to Yashoda Maiya, stealing butter from gopis home and other childhood passtimes of Krishna took place. All these passtimes are well described in the Krishna Book.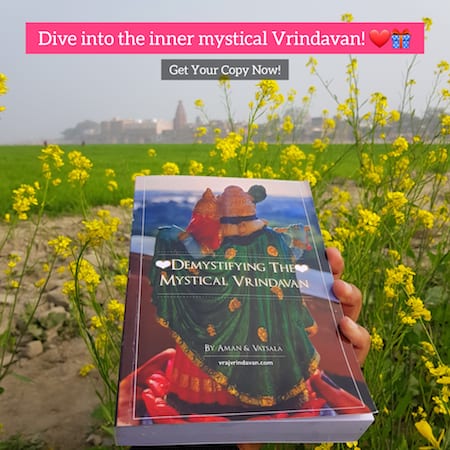 ---
The book 'Demystifying The Mystical Vrindavan' is the essence and crux of this entire website.
If you are considering to dive into the final goal of our Vedic Scriptures and spiritual life, and if Radharani inspires you, do get a copy of the book .
---
When Krishna became a little grown-up (7 years old), He wanted to relish passtimes with Sri Radha and hence He informed Kansa through an arrangement that it is He who is Kansa's death.
Upon knowing this, Kansa burnt the entire village of Gokul and Krishna shifted to Barsana, where Vrishbhanu Kaka (father of Radha and chief of Barsana) gave Gokulvasis shelter at Nandgaon. This way, Krishna could easily meet Sri Radha.
How to reach Gokul?
There are autos from Deeg Gate or Mathura Railway Station that will take you to Gokul on regular intervals. They will charge around 100-150 bucks at maximum. If you are coming via your own vehicle, simply use Google Maps.
Places to visit in Gokul
Nand Bhavan: This was the home of the chief of Gokul, Nanda Baba and he lived here with little Krishna, Balarama and Yasoda Maiya.
Chaurasi Khambha Mandir (84 Pillar Temple): It is at this place where Krishna was playing with His gopas (friends) and ate dirt (sand). There are places nearby 84 Khambha Mandir where Krishna had killed female demon Putana as well as Trinavrata demon.
Brahmand Ghat: After being informed by gopas about Krishna eating dirt, Yasoda Mayi confronted the little Kanha and asked Him to show His mouth. Krishna denied eating any dirt as such but was scolded by Yasoda Mayi to show her His mouth. When Krishna opened His mouth, Yasoda Maiya saw the entire universe in the little Krishna's mouth. This passtime took place at Brahmand Ghat in Gokul.
Raman Reti: This is the place where Krishna, Balarama and their sakhas (friends) used to play in the soft sands of Gokul. The place is really beautiful and is taken care of by the Pusti Margi devotees.
Uthkal (Damodar Lila Place): Yasoda Maiya had tied Krishna in a grinding mortar (uthkal) as Krishna was stealing the butter from the storeroom while Yasoda Maiya had gone to the kitchen to cook the meals. Upon being confronted, Krishna denied it and it was enough for Yasoda Maiya to be angry and tie Him in the wooden mortar so that she can complete her household chores. It's a beautiful passtime where Krishna agreed to be tied by the love of Yasoda Maiya.
Festivals
Holi

Janmashtami

Damodar Lila (Diwali)
Special dishes
Lassi, milk and peda at Gokul are quite famous. 
Safety Tips
Check Safety Tips and Precautions in Vraj.
Nearby Places to visit
We are sorry that this post was not useful for you!
Let us improve this post!
Tell us how we can improve this post?