Mathura is located around 160 Km from New Delhi. It is at Mathura where the Supreme Personality of Godhead Sri Krishna appeared on the earth (bhuloka) as the son of Vasudev and Devaki 5000 years ago to teach the world prema-bhakti and to establish the principles of dharma (religious principles).
Mathura was ruled by Kansa, who had imprisoned his father Maharaja Agrasen, his sister Devaki, brother-in-law Vasudev and was a cruel ruler who troubled the citizens of Mathura.
Mathura lies in Vraj Mandal (or Vraj Bhumi area) and is a place of worship for the sole reason that Supreme Personality of Godhead Sri Krishna chose to appear here.
Janmbhumi Mandir or the appearance place of Krishna is the most popular destination for tourists and devotees visiting in Mathura.
Mathura
Famous as
The kingdom of evil king Kans, who was killed by his nephew Krishna
Popular Spots
Janambhumi Mandir, Vishram Ghat
District
Mathura
State
Uttar Pradesh
Country
India
Language
Hindi, Vraj Bhasha
PIN Code
281004
STD Code
0565
Vehicle Code
UP-85
Festivals Celebrated
Holi, Janmashtami, Bhaiya Duj
Weather
Check Weather in and around Mathura and Vraj Bhumi Region.
How to reach Mathura?
To reach Mathura & Vrindavan from New Delhi, check this detailed guide.
Though the main Janmbhumi temple is just around 3.5 km from Mathura Railway Station. Shared autos and e-rickshaws are available easily. The shared auto fare is 10 rupee per person and it takes just about 5 minutes to reach this main temple from the railway station.
Places to visit in Mathura
Janmbhumi Mandir: Place where Krishna appeared on the earth.
Dwarkadhish Mandir: A very popular mandir (temple) that was built in 1814 by a royal from Gwalior in honour of Dwarkadhish (Krishna who rules Dwarka)
Vishram Ghat: This is the ghat on banks of Yamuna where Krishna took rest after killing Kansa.
Bhuteshvar Mahadev Mandir: This is one of shakipeeth of Mother Parvati where here hairs fell after her body was destroyed by Sudarshan Chakra of Lord Vishnu. The form of Shiva here is called as Bhuteshwar Mahadev and he is the shetrapal (protector) of Mathura. 
Birla Mandir (Gita Mandir): This is a popular temple built by the Birla family. It is special as all the chapters of Bhagavad Gita (18 chapters, 700 verses) are inscribed on the pillars of this temple.
Government Museum: This museum houses important replicas and artefacts that are special and have an important history associated with them.
Kans Qila: It used to be the palace of Kans, the maternal uncle of Krishna.

  

Holi Gate: This is the most buzzing area in Mathura with the market, local items, food shops etc. It is just a couple of minutes from Janambhumi Mandir.
Life in Mathura city
Mathura is a proper city and is very congested with a mix of modern localities as well as areas with vintage architectural flavour.

Thre are a lot of Hindi movies being shot in Mathura in recent past.

There is an inflow of tourists every day from various parts of India. Life in Mathura Vrindavan area is very colourful and pilgrims can see a different flavour of bhakti and spirituality.

Mathura is known for the export of silver and pooja related products, apart from sweets and mithai being world-class.
Controversies
Aurangzeb had destroyed the orignal temple where Krishna had appeared and built a mosque there. Later a temple was constructed at the actual site. Just adjacent to the birthplace of Krishna is a mosque. It is a disputed site.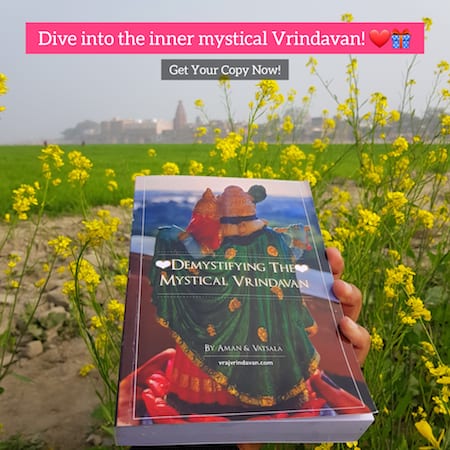 ---
The book 'Demystifying The Mystical Vrindavan' is the essence and crux of this entire website.
If you are considering to dive into the final goal of our Vedic Scriptures and spiritual life, and if Radharani inspires you, do get a copy of the book .
---
There is a huge security cover around Janambhumi Mandir and one needs to deposit his mobile phones, leather items etc at the entry gate itself. 
Places to eat in Mathura
Mathura is known for its snacks, mithai (sweets), and traditional food. You will find many good restaurants and local shops providing fulfiling meals.
Dosa Plaza, Brijvasi are popular restaurants. Near Janambhumi Mandir, there are a lot of good restaurants. 
Festivals
Holi of Mathura (in fact entire Vraj area including Vrindavan, Gokul, Nandgaon, Barsana) is world-famous.
Janmashtami is celebrated with euphoria and fervour.
Bhaiya Duj is celebrated by residents here by taking a dip in the Yamuna. This is the day when Yama and Yamuna Maharani, who are brother and sister (being the children of Surya Dev or Lord Sun) meet at Vishram Ghat in Mathura after both had come to see the baby Krishna. It is said that those who take a dip in the Yamuna on eve of Bhaiya Duj will not go to Yamaloka (Hell) at all after leaving the body.
Safety
Check Safety Tips for Mathura Vrindavan Trip.
Difference between Mathura and Vrindavan
This is a subject which is best understood by coming here but just to give the reader a slight idea, Mathura is where Krishna is a prince, a royal and has to engage in political, diplomatic and formal worldy affairs but in Vrindavan, Krishna is at home. Here, He plays with His sakhas (friends), exchanges loving reciprocation with His mother, father, sakhis (female friends) and His Prana-Priya (most dear to live) Radha.
Everybody knows that the air is different at home and at the office. Home is where the person is most blissful, and hence visitors coming here feel the different vibe in Vrindavan!
We are sorry that this post was not useful for you!
Let us improve this post!
Tell us how we can improve this post?