Nandgaon is a village located around 9 km from Barsana and is the place which was constructed by Nand Baba on the hilltop to protect the baby Krishna from the attacks of demons sent by Kansa on a daily basis.
Krishna spent his growing years here at Nandgaon. There is a big beautiful temple atop the Nandishwara Hill (Parvat) here.
Nandgaon

The temple atop Nandishwara Parvat in Nandgaon from distance

Famous as
The place where Gokulvasis shifted after Kans burnt Gokul. From here, Krishna used to sneak to Barsana to meet Sri Radha.
Popular Spots
Temple atop Nandishvara Parvat
District
Mathura
State
Uttar Pradesh
Country
India
Language
Hindi, Vraj Bhasha
PIN Code
281403
Festivals Celebrated
Janmashtami, Holi, Nandotsav
History
Nandgaon was given by the chief of Barsana, Vrishbhana Kaka to the chief of Gokul, Nand Baba after Gokul was burnt by Kansa in a hope to burn the baby Krishna.
Nand Baba constructed his home atop Nandhisvara Parvat (Hill) in a hope to protect Krishna from the attack of demons of Kansa. There would be residents of Nandgaon who would be up at all time patrolling from the hill-top to protect baby Krishna in case of any attack.
Nandishvara Parvat is actually Lord Shiva who had performed penance to take the form of a hill in Nandagaon so that he can take the dust of feet of gopis there. Gopis are the personification of love and demigods wish to take the form of a humble blade of grass in Vraj Bhumi to be brushed by the feet of gopis.
Krishna used to sneak from here to Barsana to meet Sri Radha.
How to reach Nandgaon?
From Barsana, you will get auto to Nandgaon easily. It just takes around 10-15 minutes from Barsana to reach Nandgaon.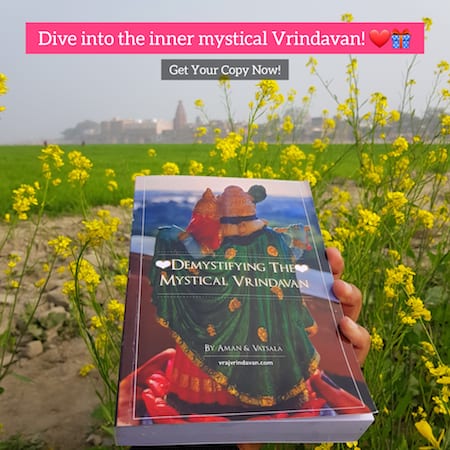 ---
The book 'Demystifying The Mystical Vrindavan' is the essence and crux of this entire website.
If you are considering to dive into the final goal of our Vedic Scriptures and spiritual life, and if Radharani inspires you, do get a copy of the book .
---
Check How to reach Barsana.
Mandir
There is a big mandir that is atop the hill at Nandgaon. It is grand and the view from the top is worth mentioning. 
Festivals
Holi is celebrated with super amazing happiness and bliss at Nandgaon. Lathmar Holi is so so popular here. In this, women take sticks to beat men which is actually a remembrance of Radharani beating Krishna in a playful and sporty manner that makes the expression of love deeper and relishable.
Places to eat
Lassi and chat here is super amazing. Lassi, milk, pakodas, golgappa is loved by all here.
Safety Tips
Check Safety Tips and Precautions in Vraj Bhumi.
Nearby Places to visit
We are sorry that this post was not useful for you!
Let us improve this post!
Tell us how we can improve this post?