Meerabai Temple is located near the narrow street adjacent to Shah Ji Temple.
It's nearby Nidhivan in a secluded street and has a very powerful aura and devotional vibe.
After Mirabai had left her palatial comforts of Chittorgarh, she was there in Vrindavan for some time.
The shaligram shila that was worshipped by Meerabai is still here at this temple.
The temple is being taken care of by the descendants of the same family that had hosted Meerabai way back in the 15th century.
Rasika-Shiromani Meerabai is a Sadharan Sakhi in Nitya-Goloka Vrindavan and who's everything is Krishna, as stated in her own words "mere to giridhar gopal, dusro na koi" which means "Nobody is mine except Giridhar Gopal Sri Krishna."
When you remember any exalted devotee, you get 6% of their devotion just by remembering them.
Hence, listening to the life of Vaishnav devotees is purifying and helps in advancing spiritually really fast.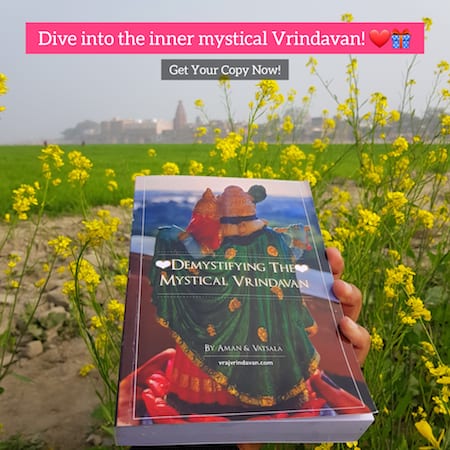 ---
The book 'Demystifying The Mystical Vrindavan' is the essence and crux of this entire website.
If you are considering to dive into the final goal of our Vedic Scriptures and spiritual life, and if Radharani inspires you, do get a copy of the book .
---
Darsan Timing
Morning: 5 AM - 1 PM
Evening: 4 PM - 8.45 PM
How to reach Meerabai Mandir?
The best way to reach Meerabai Mandir is to reach Nidhivan, and when you are at Nidhivan gate, just simply ask any shop keeper there for direction to Meerabai Mandir. It is just 2 minutes walk via a narrow street there. You can also use Google Maps but be careful of the monkeys who can snatch your phone within a blink of a moment. Check the Safety Tips below.
Safety Tips in Vrindavan
We are sorry that this post was not useful for you!
Let us improve this post!
Tell us how we can improve this post?