Banke Bihari Mandir is undoubtedly the most visited mandir in Vrindavan, apart from ISKCON Vrindavan and Prem Mandir. The deities of Banke Bihari Ji was found by Swami Haridas in 15th century at Nidhivan.
Banke Bihari Ji is fondly addressed as Bihari Ji by vrajvasis and devotees. There are devotees and businessmen from Delhi who come here on a daily basis to take darshan of Bihari Ji.
The temple is located near the Banke Bihari Gali (Lane), and just in the vicinity of Radha Vallabha Mandir. A lot of devotees and high-profile celebrities visit Banke Bihari Mandir Ji on a regular basis, with notable ones being President of India (Ex-President Pranab Mukherjee visited herein 2014) and Vivek Oberoi (Popular Film Actor) amongst many.
The ambience at Banke Bihari Mandir and nearby narrow lanes leading to the temple is no less than a beautiful canvas with all that traditional and vintage architecture style still preserved. The temple was built in 1862 by the Goswami family serving Bihari Ji (The Goswami family lineage is still serving Bihari Ji).
There is a waiting period of two years to perform arti here in the inner altar. Prior booking needs to be done for it! Banke Bihari Temple is always decorated with flowers beautifully. It is extremely soothing inside the temple complex, in spite of the huge rush anytime you go to take darshan here!
There are a lot of interesting and peculiar facts about Bihari Ji (which are further mentioned in detail below).
Banke Bihari Mandir, Vrindavan

Devotees taking Darshan at Banke Bihari Temple, Vrindavan

Deity
Banke Bihari Ji
Fondly called
Thakur Ji, Bihari Ji
Location

Vrindavan

District
Mathura
State
Uttar Pradesh
Country
India
Darshan Timings
Summer: 8 AM - 12.30 PM & 5 PM - 9.15 PM
Winter: 9 AM - 1 PM & 4.30 PM - 8.30 PM
Appearance Place
Nidhivan
Acharya (Founder)

Swami Haridas

Year Constructed
1862
Festivals Celebrated
Holi, Sharad Purnima, Akshay Tritiya, Swami Haridas Appearance Day
History, Hidden Facts & Deities
Read How Banke Bihari Ji appeared?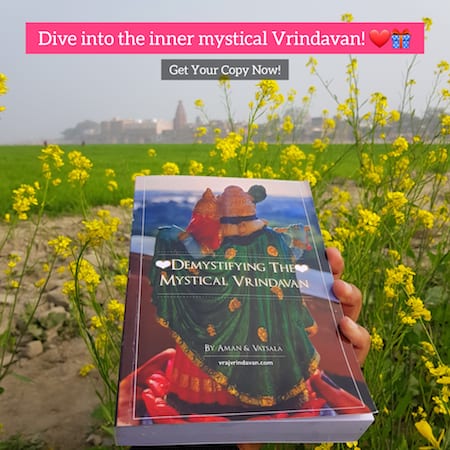 ---
The book 'Demystifying The Mystical Vrindavan' is the essence and crux of this entire website.
If you are considering to dive into the final goal of our Vedic Scriptures and spiritual life, and if Radharani inspires you, do get a copy of the book .
---
There are no bells that are rung in the temple as Swami Haridas used to treat Thakur Ji as an eight-year-old child who should not be disturbed by ringing of bells. 
Also, there is no mangal (or morning) darshan here as devotees are in the mood that Thakur Ji (Krishna) is tired after dancing with gopis in the night and should not be disturbed in his morning sleep, as he has slept late.
Here, Banke Bihari Ji sports the flute only once a year, and that is on eve of Sharad Purnima.
The darshan of Lotus Feet of Banke Bihari Ji is there only on Aksay Tritiya every year.
Meaning of Banke and Bihari Ji
The meaning of Banke in Hindi is tribhanga, or something that is bent at three places. So Banke Bihari Ji is bent at three places i.e head (or neck), waist and legs (or knees). Basically, in tribhanga pose, Krishna is not alone. He is there standing and playing the flute while Srimati Radharani is resting Her head on Krishna's left shoulder.
Bihari means the one who enjoys in the kunj (groves) of Vrindavan. Krishna and Radharani along with gopis and sakhis perform different lilas in kunj (groves) of Vrindavan which are relished by all. Hence, Krishna is also called as Kunj-Bihari.
How to Reach
From ISKCON Mandir Gate, take e-rickshaw till Banke Bihari Chowk. They will charge 10 rupees per person. Once at the chowk, get down and walk till Banke Bihari Ji.
There are many shops along the way and there would be a lot of crowd. Just follow them and you will get to Banke Bihari Mandir. It's like a 10-minute walk from there.
For those who can't walk or are old, take an e-rickshaw and tell them to go from Radha Vallabha Side. They will charge you around 50-60 bucks to drop you at the backside of Banke Bihari Mandir itself.
Darshan Timings
As a distinguishing factor from other temples of Thakur Ji (Krishna) in Vrindavan, Banke Bihari Ji wakes up late.
Darshan Timings of Banke Bihari Mandir are as follows:
Summer
Morning: Banke Bihari Ji wakes up around 7.30-8 AM and this darshan is open till around 12 noon - 12.30 usually.
Evening: In the evening, the timings are around 5 PM - 9.15 PM
Winter
Morning: Bihari Ji wakes around 9 AM, and gives darshan till around 1 PM.
Evening: 4.15-4.30 PM - 8.30 PM
Special Attraction
Banke Bihari Mandir is always decorated with flowers in a very grand manner. It looks palatial and more of a kind of film set for any new devotee or pilgrim. The temple is one of the most rushed temples in Vrindavan. It's surcharged with euphoria and shouts of Sri Radha! The atmosphere here is electric.
The MOST IMPORTANT highlight of Banke Bihari Mandir is the darshan. It is unusual in the sense that the curtain of the altar closes every 15-30 seconds as the locals mention that if one views the deity of Bihari Ji for a longer time, they can get hypnotised and get mad in prema-rasa. Others say that Thakur Ji goes with the person who looks at Him with love, and hence to prevent the deities from going away, they close the curtain every 30 seconds.
There is a proper story of how a princess from Rajasthan took darshan of Bihari Ji with so much love that He went away from the temple to her home in Rajasthan! Eventually, a search started and the deities were found out. Since then, the curtain system was introduced and it has become one of the highlights of the temple.
Safety Tips and Important Instructions
Check detailed safety tips for your visit to Vrindavan.
We are sorry that this post was not useful for you!
Let us improve this post!
Tell us how we can improve this post?