A very popular temple flocked by devotees worldwide, Krishna Balarama Mandir is also popularly known as ISKCON Vrindavan and locally known as Angrez Mandir. It was established by Founder of Hare Krishna Movement - A.C. Bhaktivedanta Swami Srila Prabhupada.
The main deities are Sri Sri Krishna Balarama, Sri Sri Radha Shyamsundar and Sri Sri Gaur Nitai. Adjacent to Gaur Nita, there are deities of Srila Prabhupada and Srila Bhaktisiddhanta Saraswati Thakur Prabhupada (Guru Maharaj of Srila Prabhupada). There is 24-hour kirtan going on here in the main temple hall. It was re-started by Sripad Aindra Prabhu in 1986.
ISKCON Krishna Balaram Mandir, Vrindavan

ISKCON Vrindavan Main Temple Courtyard

Deity
Krishna Balaram, Gaur Nitai, Radha Shyamsundar
Acharya (Founder)
Srila Prabhupada
Location
Vrindavan
District
Mathura
State
Uttar Pradesh
Country
India
Darshan Timings
Summer: 4 AM - 1 PM & 4.30 PM - 8.45 PM
Winter: 4.30 AM - 1 PM & 4 PM - 8.30 PM
Famous for
24 Hour Sankirtan
Important Sections
Srila Prabhupada Samadhi, Tulsi Maharani Plantation
Year Opened
1975 (on Ram Navami)
Festivals Celebrated
Janmashtami, Radhastami, Kartik, Gaur Purnima, Nityananda Triyodashi
History & Hidden Facts
The place where Sri Sri Krishna Balarama Mandir stands today in Vrindavan is the place where Krishna and Balarama used to play with their sakha friends in soft sands of Vrindavan. Hence, the central deities are of Krishna Balarama.
The temple was conceptualised and inaugurated by Srila Prabhupada on eve of Rama Navami in 1975. Srila Prabhupada personally oversaw the construction and development of this temple.
There's popular incidence known amongst vrajvasis and devotees who were there in Vrindavan when the deities arrived at midnight prior to the opening of the temple. As the truck carrying the deities entered Vrindavan and reached the temple, the weather changed into a beautiful ambience, there was a singing of birds, peacocks, the cows started meowing and the monkeys started jumping around Vrindavan. There had never been such sight for devotees here and people were perplexed on why the whole environment has changed at midnight. It was later realised by devotees that the deities are home!
The picture of Srimati Radharani that is most popular the world is none other than that of the Srimati Radharani at Krishna Balarama Mandir.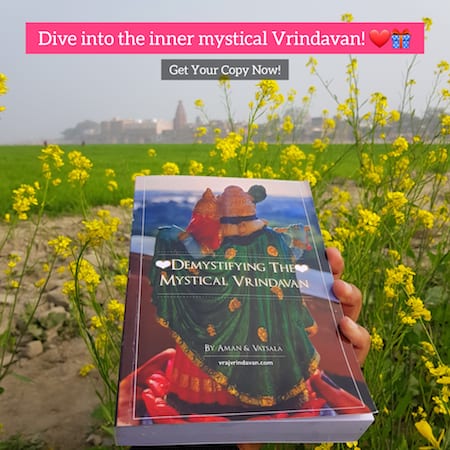 ---
The book 'Demystifying The Mystical Vrindavan' is the essence and crux of this entire website.
If you are considering to dive into the final goal of our Vedic Scriptures and spiritual life, and if Radharani inspires you, do get a copy of the book .
---
Srimati Radharani is in a slightly different pose here, and Srila Prabhuapda personally posed for her while giving a brief on how Radharani at this temple would be. He said as long as She is dancing, our movement would go on very nicely.
Anybody can get captivated by taking darshan of Srimati Radharani at Krishna Balarama Mandir. You can check the picture on phone and computer screens, but the visual and emotions that would churn when you are taking darshan of Radha Shyamsundar live is a different experience altogether and very difficult to describe in words.
Acharyas
Srila Prabhupada is a Gaudiya Vaishnav saint, a disciple of Srila Bhaktisiddhanta Saraswati Thakur and representatives in line of teachings of Lord Chaitanya and Srila Rupa Goswami. Gaudiya Vaishnavas are also called as rupanugas, or followers of Srila Rupa Goswami.
Srila Prabhupada went to the US at the age of 70 to preach the holy names of Lord on instructions of his guru maharaj Srila Bhaktisiddhanta Saraswati Thakur Prabhupada.
Deities
There are three altars in the main temple complex.
On the left are deities of Gaur Nitai, Srila Prabhupada and Srila Bhaktisiddhanta Saraswati Thakur.

On the centre are deities of Krishna and Balarama.

On the extreme right are deities of Sri Lalita Sakhi, Krishna, Radharani and Vishaka Sakhi.
On the front part of the temple is Srila Prabhupada Samadhi, where there is a huge deity of Srila Prabhupada.
How to Reach
The temple is located at Raman Reti, on Bhaktivedanta Swami Marg. If you are coming from Mathura Railway Station, just ask the auto-wala to drop you at ISKCON. You can also get a shared auto (Read more about it and auto fare on Detailed Vrindavan Travel Guide here).
Important Sections of Temple
Srila Prabhupada Quarters: It is at the backside of the temple. This is where Srila Prabhupada spent his last few years and took samadhi into the nitya-lila of Divine Couple. The place has a very caring and deep spiritual vibe.

Srila Prabhupada Samadi

Tulsi Maharani

Govinda's Restaurant

Bakery (Samosa's and soda are really good)

Book Stall (You can find a lot of spiritual books by Srila Prabhupada)
Darshan Timings
Summer
4 AM - 1 PM

4.30 PM - 9 PM
Winter
4.30 AM - 1 PM

4 PM - 8.30 PM
Special Attraction
Sit in kirtan (for 15-30 minutes. It would be a never-felt experience altogether. A lot of first-timers in Vrindavan just come and sit for hours straight in kirtan completely absorbed)
Do tulsi parikrama (Take 4 parikrama around tulsi maharani plantation near the backside of the temple)

Parikrama at Prabhupada Samadhi

Take darshan of all deities and pray for vraja-prema-bhakti
Safety Tips and Important Instructions
We are sorry that this post was not useful for you!
Let us improve this post!
Tell us how we can improve this post?