Radha Damodar Mandir is one of popular seven Goswami temples of Vrindavan.
Srila Rupa Goswami carved the deities of Radha Damodar and gave them to Srila Jiva Goswami for worshipping.
The Founder of ISKCON and Hare Krishna Movement, AC Bhaktivedanta Srila Prabhupada stayed at Radha Damodar Mandir for 6 years from 1959-1965 and wrote several books including Srimad Bhagavatam and Krishna Book here before leaving for USA on a mission to preach the holy names of Lord Hare Krishna Hare Krishna | Krishna Krishna Hare Hare | Hare Rama Hare Rama | Rama Rama Hare Hare on instructions of his Guru Maharaj Srila Bhaktisiddhanta Saraswati Thakur Maharaj.
Srila Prabhupada had often mentioned that while he was residing at Sri Radha Damodar Mandir, he could feel the presence of Srila Rupa Goswami guiding him while writing his books.
From Prabhupada's room, Rupa Goswami samadhi was visible through the window earlier, but now, they have constructed a partition near the kitchen.
Radha Damodar Mandir

Main altar at Radha Damodar Mandir, Vrindavan

Deity
Radha Damodar Ji
Famous Rasika Acharyas who did bhajan here
Srila

Rupa

Goswami, Srila Jiva Goswami,

Srila Prabhupada

Location
Vrindavan
District
Mathura
State
Uttar Pradesh
Country
India
Darshan Timings
Summer: 4 AM - 12.45 PM & 4.30 PM - 9 PM
Winter: 4.30 AM - 12.45 PM & 4 PM - 8.45 PM
Famous for
Giriraj Shila, Srila Rupa Goswami Samadhi, Srila Prabhupada Room
There are many samadhis of Rasika Gaudiya saints in the premises of Damodar Ji Mandir. Some of them are Srila Rupa Goswami Samadhi, Krishnadas Kaviraj Goswami Samadhi and Jiva Goswami Samadhi.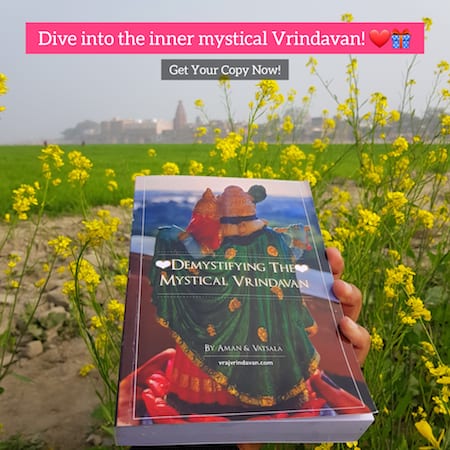 ---
The book 'Demystifying The Mystical Vrindavan' is the essence and crux of this entire website.
If you are considering to dive into the final goal of our Vedic Scriptures and spiritual life, and if Radharani inspires you, do get a copy of the book .
---
Srila Prabhupada also said that he resides eternally at this temple. The room of Srila Prabhupada is maintained by ISKCON and is a very spiritually surcharging place. While sitting and chanting japa here, you can really feel the association, causeless mercy and caress of our beloved Prabhupada. Many devotees often sit here for a long time doing japa and some reading Bhagavatam and other scriptures.
How to reach Radha Damodar Mandir?
You can reach here by any e-rickshaw from any point in Vrindavan. It is 5-minute walking distance from Keshi Ghat. Radha Shyamsundar Mandir is just 100m away from here. From ISKCON, it takes around 10-15 minutes with an e-rickshaw to reach here who usually charge 30-50 rupees.
Darsan Timings
Morning: 4.30 AM - 1 PM
Evening: 4.30 PM - 9 PM
Giriraj Shila
Also, the temple also houses the Giriraj Shila given by Krishna to Srila Sanatana Goswami. Sanatana Goswami used to go for daily Govardhan Parikrama (the longer one of 45 Km) even in his old age. Seeing this, Krishna appeared before Srila Sanatana Goswami Prabhupada and gifted him this Giriraj Shila with all his markings, and mentioned him to take 4 parikramas of this shila which would be similar to taking Govardhan Parikrama. You can often see a lot of devotees taking 4 parikramas of Radha Damodar Mandir.
The main centre of the worldwide Hare Krishna Movement
This is the main centre where worldwide ISKCON Krishna Consciousness Movement's seeds were sown and it is the most important place for Gaudiya Vaishnavas. Gaudiya Vaishnavas are also called as Rupanugas, or followers of Srila Rupa Goswami whose samadhi mandir is located here.
The old baba at Ter Kadamba once mentioned to me that Srila Rupa Goswami still plays mridanga and sings kirtan for the pleasure of the Divine Couple at his samadhi in Damodar Mandir though it cannot be seen by everybody except Rasika Vaishnavas and those with the mercy of Sri Radha. You can feel homely and caressing vibes while entering and taking darshan at this temple.
Safety Tips in Vrindavan
We are sorry that this post was not useful for you!
Let us improve this post!
Tell us how we can improve this post?