Many people often have a deep desire to visit Vrindavan and at some point in life plan to visit Vrindavan once.
They have a conception that Vrindavan would be like forests and untouched with modernisation. Contrary to the notion what people have in their mind, externally Vrindavan has undergone a rapid level of infrastructural progress and is home to many high rise apartments, superstores, pizza outlets and grand marble temples with a high footfall of domestic as well as international tourists and pilgrims daily.
However, a lot of old temples in and around Loi Bazar retain that vintage and traditional Vrindavan feel.
In this exhaustive Vrindavan Travel Guide, I will guide you with all the details you need to plan a Vrindavan trip in such a way that you take back some great memories with yourself apart from gaining spiritually and being coloured in Vraja Prema Bhakti whenever you plan to visit here.
Vrindavan

Yamuna Ji flowing at Keshi Ghat in Vrindavan

Famous as
The land where Radha and Krishna perform their Divine Transcendental Nitya (Eternal) Lilas (Passtimes)
Manifestation of
Goloka Vrindavan
Popular Temples
ISKCON,

Banke Bihari Mandir

, Nidhivan, Radha Damodar Mandir, Radha Raman Mandir, Prem Mandir
District
Mathura
State
Uttar Pradesh
Country
India
Language
Hindi, Vraj Bhasha
PIN Code
281121
STD Code
0565
Vehicle Code
UP-85
Main Market
Loi Bazar
Special Attractions

24 Hour Sankirtan

, Boat Ride at Keshi Ghat, Darshan at Banke Bihari Mandir, Prem Mandir Lighting
Festivals Celebrated
Holi, Janmashtami, Radhastami, Kartik, Purusottam, Ekadashi
History & Story
Vrindavan is the abode of the love of Srimati Radharani and Krishna, the Supreme Personality of Godhead.
The story and lilas of Krishna are known to all, but only in parts and pieces to the majority of masses. I will connect it on basic terms for people who are unaware.
So, as most of you might be knowing, Krishna was born in Mathura and from there, Vasudev Ji (his father) crossed the Yamuna and left the baby Krishna at his friend Nanda Baba's home in Gokul. Krishna was lovingly raised by Nanda Baba and Yashoda Maiya. When He became a bit grown up, He directed the information to Kans that it is nobody other than Him who is destined to kill Kans.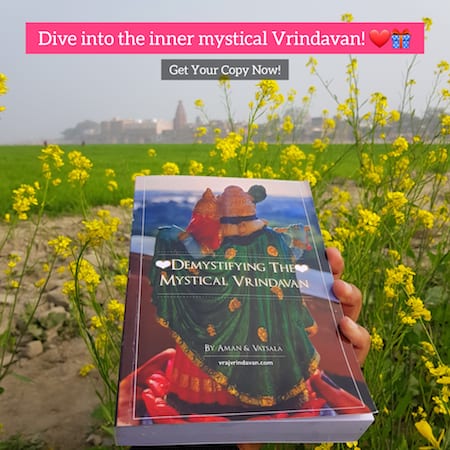 ---
The book 'Demystifying The Mystical Vrindavan' is the essence and crux of this entire website.
If you are considering to dive into the final goal of our Vedic Scriptures and spiritual life, and if Radharani inspires you, do get a copy of the book .
---
Upon hearing this, evil Kans burned the entire village of Gokul in a hope to burn Krishna, and eventually kill his death. Krishna has already made His plans, and before the army of Kans were about to burn Gokul, Krishna convinced Nanda Baba to go and take shelter at Vrishbanu Baba's village Barsana. It was all a pastime of Krishna to spend time with Srimati Radharani in Barsana and perform His divine lila's to teach the world prema-bhakti and reclaim the conditioned souls to go back home, back to godhead Goloka Vrindavan.
From there, Vrishabhanu Baba gifted the Gokulvasis the holy land of Vrindavan, which became the place where Radharani and Krishna perform the nitya transcendental lilas. Vrindavan attracts all sincere seekers and colours them with the inner confidential love of prema-bhakti that is extremely rare and not even accessible to yogis, siddha saints, tapasvis and even demi-gods like Shiva Ji and Brahma Ji.
In this age of Kali, the confidential aspects of vraja-prema rasa can be easily understood by chanting Hare Krishna Mahamantra loudly with full engagement, exactly how a child cries for his mother. While chanting the holy names, cry loudly to Srimati Radharani and Krishna for direction to the most confidential aspect of vraja prema-bhakti.
When is the best time to come to Vrindavan?
The very day this thought comes to your mind. Franky, not everybody can come to Vrindavan even if planning for long. I have experienced it first hand and the same with so many friends around me. Sometimes, the train gets cancelled, sometimes the way to airport route is abuzz with heavy traffic and you miss your flight, sometimes last-minute work cancels the plan, and sometimes you come till Mathura but are unable to visit Vrindavan.
---
---
And however weird or funny it may sound, all of a sudden you wake up one day and feel inspired to go to Vrindavan and you just take the next train, bus or simply begin driving to Vrindavan impromptu. So, the day you feel deeply inspired to come to Vrindavan, simply leave all the work and begin your journey to the most confidential abode of the love of Srimati Radharani and Sri Krishna, Sri Vrindavan Dham.
It is said in Samudra Shastra that anybody who does penance and tapasya for thousands of lifetimes gets the chance to take a step in Vrindavan. Srila Rupa Goswami mentions in Mathura Mahatmya that with just a step in Vrindavan, the sins accumulated in thousands of lifetimes is destroyed within a second.

There are so many scriptures glorifying the exalted position of Vrindavan (which as stated in these scriptures itself, is very difficult for even them to glorify it properly).
Though, Janmashtami, Radhamastmi, Holi and Kartik (Damodar) Mas are extremely visited times of the year by devotees from all over the world. (Further details below)
Weather in Vrindavan (Temperature)
Vrindavan is not easy to survive with the temperature being extreme in both summer and winter.
Check the detailed Vrindavan weather in different seasons of the year.
How to reach Vrindavan?
For international tourists and pilgrims, Vrindavan is approximately 2-3 hour drive (depending on traffic) from New Delhi T3 (International) Airport.
Reaching Vrindavan from New Delhi Airport or Railway Station
Check How to reach Vrindavan from New Delhi
Reaching from Mathura to Vrindavan
Check How to reach Vrindavan from Mathura
Temples and Mandirs
The popular temples in Vrindavan are ISKCON, Banke Bihari Mandir, Nidhivan, Prem Mandir, Radha Damodar Mandir, Radha Raman Mandir, Radha Vallabha Mandir amongst many others.
Here is a detailed list of most visited temples and mandirs in Vrindavan along with history, timing and inner details.
How to travel cheaply and conveniently in Vrindavan?
The most preferred mode of commute in Vrindavan is e-rickshaws. They are cheap, eco-friendly and zoom in any small lanes of Vraj quickly. They will charge around 10-40 rupees unless very far.

Do not give them any amount above 60-70 bucks for any place as once they sense that you are coming for the first time, they will quote big astronomical amounts.

Also, many devotees prefer to walk as all the major and popular temples like ISKCON, Prem Mandir, Radha Damodar, Radha Shyamsundar, Nidhivan, Meerabai Temple, Radha Raman, Gopeshwar Mahadev, Radha Madan Mohan, Radha Govinda etc. are located in around 2 km radius.

Use Google Maps, phone and ask any walker by for directions in case you are stuck.
Restaurants and Places to eat in Vrindavan
Check the list of best restaurants in Vrindavan
Shopping
Loi Baazar is a place for serious shoppers and is always crowded with lots of pilgrims and devotees. You will find dresses for deities, spiritual books, dhoti-kurta for men, gopi-dress for women, apart from deity worship materials, small gifts, posters, artwork, statues etc.
Female devotees just enjoy shopping here. For men and women's wear, Gangotri at Loi Bazar is quite popular.
For books, Rasabihari and Sons (just near Gangotri Cloth Store) in Loi Bazar is renown.

You can visit any store for deity dresses and ornaments.

Also, Banke Bihari Lane has some good shops that are highly rushed after.
Hotels in Vrindavan (Accommodation for overnight stay)
Check the list of hotels in Vrindavan (both budget and luxury hotels)
Bike for rent in Vrindavan
If you are just a couple of people, or in multiples of 2, you can rent a bike from Srila Prabhupada Emporium at Hare Krishna Residency, just near to the Bonraj Maharaj College and on the adjacent side of Main Gate of ISKCON Temple. They will take a security deposit of 1000 rupees, and will charge 500 rupees for Activa scooter and bikes. The advantage you will get is that you can go to any place around Vrindavan easily. Also, you can quickly visit Mathura, Barsana, Govardhan, Radha Kund easily. If you are good with using Google Maps, I would highly advise you to rent a bike or scooter to have a further great experience.
Though, please note that there are some instances of bike theft in Vrindavan, hence make sure that you park it securely or at parking only. Don't leave the bike at any random place for a longer period of time.
Must-do activities in Vrindavan
I would highly suggest any devotee or tourist coming to Vrindavan to make sure to participate in the below mentioned devotional activities.
Though every step in Vrindavan destroys sins of thousands of lifetimes and also bestows the result of 100 Ashwamedha Yagyas, what Rasika Vaishnavas teach is to be a seeker of vraja-prema bhakti.
As repeated by exalted saints and scriptures every now and then, in this age of Kali Yuga, vraja prema bhakti can easily be understood by following point number 2 below. Do try to experience the below-mentioned points and take back some wonderful memories with yourself when you come for Vrindavan trip.
Yamuna Boat Ride
Visit Kesi Ghat and take a boat ride. There are many boats there and they usually charge an arbitrary amount once they get a feel that you are a tourist so do not forget to negotiate with them. The ideal price would be 150 or 200 bucks for a 20-30 minute ride duration. It is a wonderful experience to witness the ghat from the waters of Yamuna Maharani as Keshi Ghat retains that traditional vintage vibe. If possible, do take Yamuna Snan or take achman if you are unable to take snan (bath).
Kirtan at ISKCON
There is a fully charged up enthusiastic kirtan at ISKCON Krishna Balarama Mandir 24 hours a day. It has been going on since 1986. It was re-established by Sripad Aindra Prabhu. You just step inside the temple hall and automatically get engaged in the Harinam Sankirtana. This is the final conclusion of all Vedic Scriptures. Harer Nama Eva Kevalam i.e. in Kali Yuga, there is nothing except Harinam for the deliverance of fallen conditioned souls.
Banke Bihari Darshan
The darshan at Banke Bihari Mandir is a tad different as the curtain opens and closes every alternate 10-30 seconds. The deities of Banke Bihari Ji just create a powerful impression on the viewer. You will witness a different experience here.
Yamuna Arti
Evening arti at Keshi Ghat on banks of Yamuna Maharani is flocked by devotees worldwide. There is a grand arti and you just get engaged in the festivities there. It starts at 5.30 and sometimes at 6 PM. Though, be careful not to wear spectacles there as monkeys can snatch it very easily. Also, be aware not to speak to anyone local or dicey here and do keep your mobile and wallet safe.
Chant Hare Krishna Mahamantra internally
While in Vrindavan, keep chanting Hare Krishna Hare Krishna | Krishna Krishna Hare Hare | Hare Rama Hare Rama | Rama Rama Hare Hare on your lips. You can get a bead and bead bag for 50-100 rupees anywhere in Vrindavan and keep chanting here. Krishna and Srimati Radharani become pleased with anybody who chants the holy names. Taking 1 nama (name) of Krishna in Vrindavan gives the result of taking Krishna's name 1000 times. Hence, try to keep chanting Hare Krishna Mahamantra when you are here (It would be nice if you can start if from the moment you read this from anywhere in the world). Chanting Hare Krishna maha-mantra manifests everything from within and gives you direction at every juncture of life about the very purpose of life itself.
Put Vraj Soil on head
Don't understand anything but really are seeking answers on what is so confidential about Vrindavan? Just put some Vraj mitti (soil) on the head while you are here and pray to the holy land of Vrindavan to give you direction. You would be surprised by how quickly our merciful Sri Vrindavan Dham guides you.
My suggested travel itinerary (for 1-day visit)
I have compiled a detailed one-day travel itinerary if one wants to take back maximum spiritual credits and happy memorable experiences in Vrindavan trip. Check my Detailed One Day Vrindavan Travel Guide here.
Vrindavan Parikrama
A lot of devotees do Vrindavan Parikrama around Vrindavan (Parikrama means walking around in circle i.e starting and ending at the same place). It is a 13 KM walk around the circumference of Vrindavan Dham. By circumambulating Vrindavan once, you get the result of circumambulating all the temples in Vrindavan. It is said that all offences are destroyed by doing Vrindavan Parikrama.
One should keep chanting Hare Krishna Mahamantra while doing Vrindavan Parikrama and keep praying for a direction to vraja-prema-bhakti. A lot of devotees do parikrama on Ekadashi.
The natural scenic beauty on the 13 KM path is something that will linger in your memory for a long time and will make you very blissful internally. A good part of Vrindavan Parikrama route is untouched by modern buildings and retains that traditional feel with lots of greenery, peacocks, cows and parrots around.
Special Festivals celebrated in Vrindavan
Holi
Holi is celebrated with a lot of vigour and excitement. It is popularly celebrated at Banke Bihari Mandir, Radha Ramana Mandir, Radha Vallabha Mandir and around Loi Bazar with more enthusiasm. Thought the entire 13 KM parikrama marg is full of colours and it is no less than a film set. You love being here. It is one of the highlights of Vrindavan and devotees worldwide come here to attend Holi.
Janmashtami
Janmashtami sees a huge rush of pilgrims, and especially from nearby regions of Delhi and Rajashtan. All the mandirs are decorated no less than royal palaces and there is an extreme amount of fervours, glitz and euphoria surrounding the festivities of Janmashtami. A lot of religious ceremonies including kirtan, prasad distribution, yagyas happens at every other corner in Vrindavan. It is a joy to be here in Janmashtami and visit the temples here.
Radhastami
Radhastami is celebrated with more enthusiasm than Janamashtami as it is the appearance day of Queen of Vrindavan, Srimati Radharani, the personification of love of Sri Krishna. Everywhere, you see a lot of happiness, pujas and big feasts going on.
Kartik (every year)
Kartik usually falls from mid-October and mid-November every year. Kartik is also known as Damodar Mas. It is the month of Radharani and it bestows 1000 times more bhakti than any normal time of the year. This Kartik period is when Vrindavan is crowded to the core and it is almost impossible to find hotels for overnight stay. Thousands of devotees visit here on a daily basis and it is full of buzz and super high enthusiasm during Kartik. One must make it a point to come to Vrindavan every Kartik regardless of anything. it bestows thousands of times spiritual credits and sincere seekers really get direction and answers quickly in the quest of vraja-prema bhakti.
Important festivals celebrated in Kartik are Sharad Purnima, Radha Kund Appearance Day, Govardhan Puja, Diwali, Damodar Lila, Tulsi Vivah etc.
Purusottam (every 2.5 years)
Purusottam, also know as mal mas is considered as the top-most month to leave all work and just meditate on the Purustoamm Lord, or Sri Krishna with full heart and soul. It bestows 100000 times the benefit of doing bhakti on any other day. Thousands of devotees do Vrindavan Parikrama every day during Purusottam Maas. Even stepping for just a few hours in Vridnvaan during Pusursottam bestows results of millions of lifetimes of bhakti and it can be immediately felt internally by the sincere devotees.
Precaution and Safety Tips
Please check these important safety tips that might help you make your Vrindavan visit safer and much more memorable.
Books to Read
You can buy books here at Krishna Balarama Mandir or at Rasabihari Sons Book Shop at Loi Bazar. Though, if you are looking forward to reading and diving into spirituality now, you can download these books for spiritual advancement.
Some of the foundational books that you should begin with are The Nectar of Instruction, The Science of Self Realisation, Life comes from Life, Bhagavad Gita As It Is, Srimad Bhagavatam etc.
How to prepare for Vrindavan trip?
Chant Hare Krishna Mahamantra. Pray unto Srimati Radharani and remember Vrindavan. Reading Krishna Book will help you lay a great foundation and spiritual consciousness for appreciating Vrindavan furthermore. You can also read this post How should beginners approach spirituality. If not anything, just think and pray sincerely, "Hey Radharani, please guide me to inner confidential secrets of Vrindavan. I surrender unto you".
Chant Hare Krishna Hare Krishna | Krishna Krishna Hare Hare | Hare Rama Hare Rama | Rama Rama Hare Hare while entering Vrindavan. Radharani becomes pleased with one who takes the holy names and guides immediately if prayed with utmost sincerity and desperation to achieve prema-bhakti.
What to pack?
Summers: Do not forget to get some water as it gets extremely hot and humid in summers. If you feel inspired, take biscuits (for sadhus). Any pious activity done in Vrindavan gives the 1000 times benefit.
WInters: Headscarf or muffler is a must. You will feel really cold out here. Wear sweaters and warm clothes to keep yourself safe from catching a cold.
Further Travel Spots close to Vrindavan
Barsana
Barsana is located 45 km north-west of Vrindavan and is famously known as the residence of Srimati Radharani, Queen of Vrindavan.
Check detailed Barsana Guide here
Radha Kund
Radha Kund is situated at a distance of 21 KM from Vrindavan. Radha Kund and Shyam Kund are considered as the two eyes of Govardhan Hill, which is shaped like a peacock (You can just search Govardhan Hill on Google Maps and see the shape of Govardhan Mountain which resembles a peacock from the top).
Check detailed Radha Kund Travel Guide here
Govardhan
The popular Govardhan Hill, also known as Giriraj Ji is located 22 KM from Vrindavan. A lof devotees perform the 21 KM Govardhan parikrama on feet, which usually takes 4-8 hours. It is a very pleasurable and nice experience to sit approaching Giriraj Ji and chanting your mala here.
Check detailed Govardhan Travel Guide here
Gokul
Gokul is at a distance of 20 KM from Vrindavan. It is the place where Krishna spent his early childhood in Yashoda Maiya and Nanda Baba's care. The place where Krishna showed the entire brahmanda (universe) in his mouth to Yashoda Maiya is located here. It was in Gokul that Krishna used to steal butter along with His sakha friends from Yashoda Maiya and gopis kitchen.
Check detailed Gokul Travel Guide here
Mathura
The Janmbhumi in Mathura is located about 14 KM from Vrindavan. It is a very spiritually potent place and you get a lot of inner bliss while taking darshan inside the main Janmbhumi temple.
Check detailed Mathura Travel Guide here
Bhandirvan
Bhandirvan is located 21 KM from Vrindavan and is the place where Radharani and Krishna got married. Though this marriage was not in front of the entire world and was extremely confidential. Vamshivat is hardly 5-minute drive from the main temple at Bhandirvan.
Check detailed Bhandirvan Travel Guide here
Raval
Raval is about 20 KM from Vrindavan and is the place where Radharani was born. The main mandir is very less visited by and the darshan of little Radharani is a treat for the devotees. Also, there is a garden just opposite the main temple where two trees are together wrapped in each other, one being black and the other being white in colour. Locals say that the white tree represents Radharani and the black one depicts Krishna.
Check detailed Raval Travel Guide here
Nandgaon
Nandgaon is located at a distance of 48 KM from Vrindavan. It about 6 KM from Barsana. Krishna lived here after the Gokulvasis came to take shelter at Barsana as Gokul was burnt by Kans. It was all a plan by Krishna so as to arrange meetings with Radharani regularly. Later, Vrisbhanu Baba gifted the land of Vrindavan to Gokulvasis to establish their new village.
We are sorry that this post was not useful for you!
Let us improve this post!
Tell us how we can improve this post?