Radha Vallabha Mandir is located just 2 minutes from Banke Bihari Mandir. The deities of Radha Vallabha Ji was worshipped by Shri Hit Harivansh Mahaprabhu.

Hit Harivansh Mahaprabhu is the incarnation of vamsi (flute) of Krishna and descended to give the inner confidential maha-madhurya prema-bhav of nav-nivritta-nikunja in the mood of sehcharis.
The temple is grand and one needs to climb stairs and go in a zig-zag lane to enter the temple courtyard. Once inside the courtyard, you will see the grand darshan of Sri Sri Radha Vallabha Ju.
There is no Radharani in the altar. However, you will see that the deity of Radha Vallabha Ju has a long braid coming from his crown.
Rasika Vaishnavas of Vrindavan mention that not everybody has adhikar (eligibility) to see the confidential rupa (form) of Srimati Radharani, hence the deity is yugal jodi. Yugal jodi or Yugal rupa means both Krishna and Radharani are together in one body (deity). The long braid and hair in Radha Vallabha Ji is that of Sri Radha.
Holi at Radha Vallabha Mandir is a totally out-of-world experience in itself.
Radha Vallabha Mandir, Vrindavan

Deity
Radha Vallabha Ji
Acharya (Founder)
Hit Harivansh Mahaprabhu
Location
Vrindavan
District
Mathura
State
Uttar Pradesh
Country
India
Darshan Timings
Summer: 4.15 AM - 12.45 PM & 4.30 PM - 9 PM
Winter: 4.30 AM - 1 PM & 4 PM - 8.45 PM
Famous for
The unique darshan of Radha Vallabha Ji with a braid (of Radharani)
Darshan Timings
Summer
4 AM - 1 PM

4.40 PM - 9 PM
Winter
4.30 AM - 1 PM

4 PM - 8.30 PM
How to reach?
It is just like 200-300 steps from Banke Bihari Mandir which is a popular spot. Check How to reach Banke Bihari Mandir here.
Safety Tips and Important Instructions
Check Safety Tips and Precautions in Vrindavan.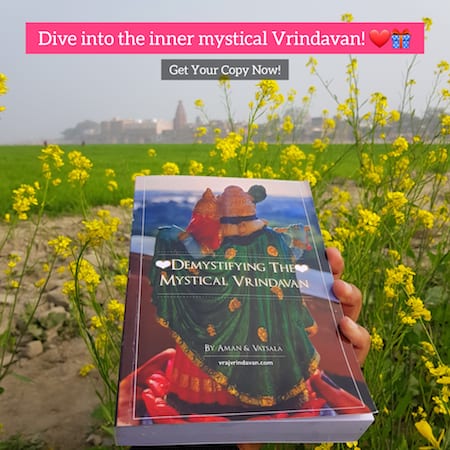 ---
The book 'Demystifying The Mystical Vrindavan' is the essence and crux of this entire website.
If you are considering to dive into the final goal of our Vedic Scriptures and spiritual life, and if Radharani inspires you, do get a copy of the book .
---
We are sorry that this post was not useful for you!
Let us improve this post!
Tell us how we can improve this post?