Nidhivan is popularly known as the place where Krishna and Srimati Radharani meet in the midnight for the rasa-dance festival along with Their sakhis (female friends). It has been given a lot of media coverage and hype amongst the general Indian masses. There are so many videos (mostly news channel ones) where they give suspense news about the happenings at Nidhivan.
NIdhivan is one of the rasa-sthalis where Krishna and Sri Radha perform Their confidential passtimes (lilas) in the association with gopis and sakhis.
This is not a mundane dance but is the pinnacle of parishudh prema bhakti (eternal pure loving devotion) which manifests only in the heart of sincere seeker who is purified and has controlled their senses, lust, greed, anger. This can be easily achieved by chanting Hare Krishna Mahamantra Hare Krishna Hare Krishna | Krishna Krishna Hare Hare | Hare Rama Hare Rama | Rama Rama Hare Hare.
Nidhivan is also the appearance place of Banke Bihari Ji. Swami Haridas used to do his bhajan at Nidhivan and it was on his request that Banke Bihari Ji actually appeared. The deity of Banke Bihari Ji is worshipped at the popular Banke Bihari Mandir in Vrindavan, hardly located around 10-minute walking distance from Nidhivan.
Nidhivan, Vrindavan

Appearance Place of
Banke Bihari Ji
Famous for
Bent trees, Place where Krishna and Radharani meet at night for the rasa-dance festival
Location
Vrindavan
District
Mathura
State
Uttar Pradesh
Country
India
Darshan Timings
Summer: 5 AM - 8 PM
Winter: 5 AM - 7 PM
Bhajan Kutir of
Swami Haridas
In Popular News
Many of you might have heard or seen videos on YouTube and TV channels about a temple in Vrindavan where all the monkey's, birds and human beings go out from its premises in the night. They also add that in the morning all the prasad and deity items are found scattered. This is none other than Nidhivan itself.
It's a very confidential place for pure Rasika devotees.
The trees at Nidhivan are in a very peculiar form and are bent and in a very zigzag structure. The exalted saints that say that these trees are not ordinary but are the confidential maidservants or gopis of Srimati Radharani and Krishna, and have taken the form of trees just to meditate on the inner passtimes (lilas) of the Divine Couple.
The entire Nidhivan area is home to a lot of monkeys and they are very expert in snatching spectacles of visitors.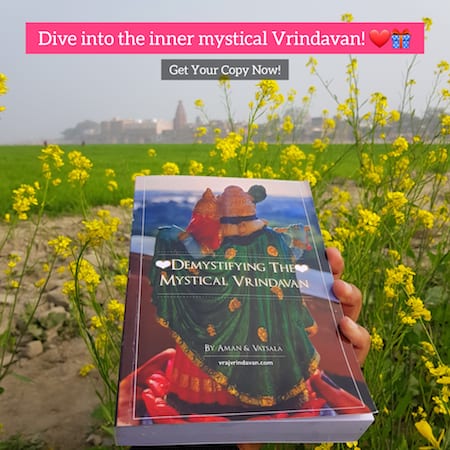 ---
The book 'Demystifying The Mystical Vrindavan' is the essence and crux of this entire website.
If you are considering to dive into the final goal of our Vedic Scriptures and spiritual life, and if Radharani inspires you, do get a copy of the book .
---
If you are having a purse or carry bag that has eatables in it, be assured that it is gone (doesn't matter who you are). The monkey here can become aggressive if needed. Do check out the safety tips one should follow in Vrindavan below.
History
Apart from being a confidential rasa-sthali, Nidhivan is also the appearance place of Banke Bihari Ji - one of the most popular temples in Vrindavan. (Check Banke Bihari Mandir Guide here)
The first small temple that comes after entry in Nidhivan is the bhajan kutir of renowned Rasika Vaishnav Swami Haridas and he used to reside here and meditate on the Divine Couple. Swami Haridas is no ordinary and actually is Lalita Sakhi in Nitya-Goloka Vrindavan.  
The second temple you encounter along the way is Rang Mandir where Krishna and Radharani take rest. It is also a place where Krishna decorates Radharani and combs his hairs as well.
Then there is also a temple where Radha Rani steals Krishna's flute and plays it in such a beautiful way that it enchants every gopis and Krishna as well.
Meaning of Banke and Bihari Ji
Check the detailed inner meaning of Banke Bihari Ji here. 
Special Instructions for pilgrims and visitors at Nidhivan
As stated in upper sections, the trees at Nidhivan are confidential and most special maidservants of Lord who have appeared to meditate on Divine Couple. Please do not pluck the leaves or hurt the trees in any manner whatsoever. The monkeys also here are special devotees who are very dear to Lord. Do not tease them or engage with them.
In Vrindavan chant the Hare Krishna Mahamantra at all times and pray for direction for vraja-prema-bhakti. You can read the beginner's spirituality guide that will help you in your entire life in all fields.
Darshan Timings
In summers, the gate at Nidhivan usually opens around 5 AM and is open till 8-8.30 PM.

In winter, the temple opens at 5 AM and closes around 7-7.30 PM.
How to reach Nidhivan?
From ISKCON or any part of Vrindavan, just take an e-rickshaw and ask them to drop you at Nidhivan. They will charge around 40 rupees from ISKCON and around 50 rupees from Prem Mandir.
Only e-rickshaws and bikes can reach at Nidhivan. The car entry is not possible here as the lanes are very small. If you are coming by car and if there is no barricade at the entry points in Vrindavan (on-peak rush days, there are barricades put and no vehicle can enter Vrindavan), you can park your vehicle at Keshi Ghat Parking and walk from there. It will just take 5 minutes to walk from there. The Keshi Parking fellows charge 50 rupees.
How to understand the rasa dance festival of Nidhivan?
These are inner confidential discussions for only exalted saints and beginners or non-devotees with their conditioned senses should not see it as some normal thing. One should chant Hare Krishna Mahamantra to attempt to understand what is so confidential about this. By sincere chanting of Hare Krishna Mahamantra, the heart becomes fertile with devotion to approach this inner passtimes of Supreme Personality of Godhead, Sri Radha and Sri Krishna.
You must check How should beginner approach spirituality if you are serious about understanding the purpose of human life and wish to understand Vrindavan secrets easily.
Safety Tips and Important Instructions
We are sorry that this post was not useful for you!
Let us improve this post!
Tell us how we can improve this post?