Ter Kadamba is located just 1.5 km from Nandgaon and is a very less visited place that retains the traditional vibe of Vraj Bhumi. It is the place where Krishna calls His 900000 cows by playing His flute.
It is also at Ter Kadamba that Srila Rupa Goswami did bhajan (devotional practice) and wrote various pieces of literature on Radha Krishna on instructions of Chaitanya Mahaprabhu.
This is a very confidential place and simply visiting Ter Kadamaba elevates the seeker's spiritual life exponentially.
Ter Kadamba

A Tree at Ter Kadamba

Famous as

The place where Krishna calls His 900000 cows by playing His flute.

Srila Rupa Goswami

Bhajan Sthali

District
Mathura
State
Uttar Pradesh
Country
India
Language
Hindi, Vraj Bhasha
Festivals Celebrated
Gopastami, Srila Rupa Goswami Appearance Day
How to reach Ter Kadamba?
It's best to have your own or rented vehicle to visit Ter Kadamba as it is around 1.5 km in the interior from the main road ahead of Nandgaon. From Barsana, you can always rent an auto for Ter Kadamba (they will pick and drop you).
Check How to reach Barsana.
How to get the maximum spiritual benefit here?
Srila Rupa Goswami used to write literature day and night and very less time was available for bhajan. The secret is that one round of Hare Krishna Mahamantra chanted at Ter Kadamba gives the result of chanting it 900000 times. 
The less time was made up by this special potency. It is very confidential secret largely unknown to people, including the devotee community.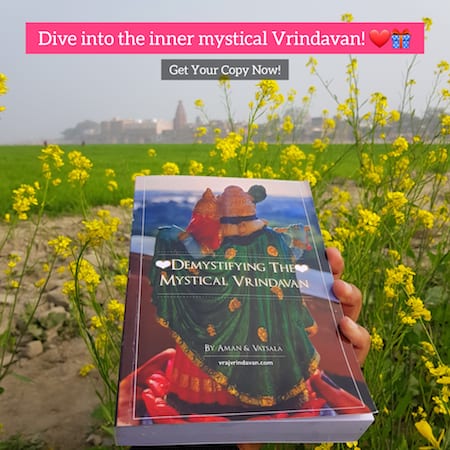 ---
The book 'Demystifying The Mystical Vrindavan' is the essence and crux of this entire website.
If you are considering to dive into the final goal of our Vedic Scriptures and spiritual life, and if Radharani inspires you, do get a copy of the book .
---
Gaudiya Vaishnavas are also called as Rupanugas, or followers of Srila Rupa Goswami. Ter Kadamaba is where Rupa Goswami spent the maximum amount of his time hence this place is most important for sincere seekers who are in search of vraj-prema-bhakti.
If you get a chance to visit Ter Kadamba, chant as many rounds as possible. I know a few devotees who go there and chant throughout the day especially during Kartik or Purusottam month where it is amplified further by many thousand times.
You can feel the devotional advancement very quickly. Everything sprouts from within the heart just by doing bhajan at Ter Kadamba.
Confidential
The original manuscript of The Nectar of Instruction (Updesamrta) is at the temple here. The Nectar of Instruction is a must-read book for anybody desiring to find the true purpose of human birth.
Radha Rani offering kheer to Srila Rupa Goswami
Radharani made kheer (sweet rice) and came in the form of a little lali (girl) to offer it to Srila Rupa Goswami when he was so engrossed in writing that he hardly had any food for many days. His brother Sanatana Goswami had come to visit him and when he tasted this kheer, he felt devotional ecstasy and quickly understood that this kheer has been made by Sri Radha. The pictorial representation of this is in the altar in temple at Ter Kadamba.
Keeping in line with this tradition, the pujari here offers kheer to all devotees who visit Ter Kadamba.
Srila Rupa Goswami is no ordinary. Taking his shelter is the conclusion of Gaudiya Vaishnavas as he is Rupa Manjari in nitya-Goloka Vrindavan who engages the devotee (in their original identity) in service of Divine Couple Sri Radha and Sri Krishna. This subject is very confidential and one should chant Hare Krishna Mahamantra, and slowly approach the inner Vrindavan Prema Rasa by reading these books.
Nearby Places to visit
We are sorry that this post was not useful for you!
Let us improve this post!
Tell us how we can improve this post?