Radha Shyamsundar Mandir is one amongst the popular 7 Seven Goswami temples of Vrindavan. It is located just 2-minute walk from Radha Damodar Mandir.
The deities of Sri Sri Radha Shyamsundar were given to Shyamananda Prabhu by Srimati Radharani Herself. The deity of Radha Shyamsundar here manifested from the heart of Srimati Radharani. That particular deity is not in the centre, but the left side (right side of the viewer) of the main altar. The deity at the centre was worshipped by Baladeva Vidyabhusana. 
Taking 4 parikramas here assures of prema-bhakti. There is an underground bhajan sthali (place of worship) of Shyamanada Prabhu near the Vrinda Devi small temple in the courtyard.
Photography is strictly prohibited in the temple.
One should keep chanting the Hare Krishna Mahamantra while in Vrindavan, and especially at the 7 Goswami Temples and pray for vraja-prema-bhakti.
Radha Shyamsundar Mandir, Vrindavan

Deity
Sri Sri Radha Shyamsundar
Acharya (Founder)
Syamananda Prabhu
Location
Vrindavan
District
Mathura
State
Uttar Pradesh
Country
India
Darshan Timings
Summer: 4.30 AM - 12.30 PM & 4.30 PM - 8.45 PM
Winter: 4.45 AM - 1 PM & 4.30 PM - 8.30 PM
Famous for
The deity that manifested directly from the heart of Sri Radha
The appearance of Radha Shyamsundar Ji
Shyamananda Prabhu, who was earlier called as Krishnadas used to serve Srila Jiva Goswami in Vrindavan Dham and had been given the seva (service) of fetching water from the Yamuna as well as cleaning the premises of groves of Vrindavan with a broom. Once after fetching the water and returning back, Krishnadas was cleaning the groves with deep remembrance of Divine Couple Sri Radha and Sri Krishna.
While cleaning, he found a beautiful anklet on the way. He felt so much connect with that anklet that he went in deep ecstasy. He hugged the anklet to his chest and then on his forehead as if he has found a great treasure. He saw two beautiful divine Sakhi (girls) approaching him and asking him if he had found an anklet. When he affirmed, the sakhis wanted the anklet back stating that it is of their friend. But Krishnadas mentioned that he will return that anklet only to the rightful owner and not to them.
So the sakhis asked Krishnadas to accompany them. They took him to Radha Kund where they asked Krishnadas to take a dip in it. As soon as Krishnadas took a dip, he got his vraja-swarup of a maid-servant of Radharani and realised that these two sakhis are none other than Lalita Devi and Vishaka Devi.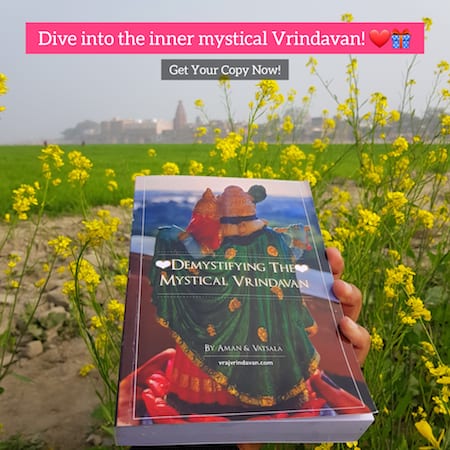 ---
The book 'Demystifying The Mystical Vrindavan' is the essence and crux of this entire website.
If you are considering to dive into the final goal of our Vedic Scriptures and spiritual life, and if Radharani inspires you, do get a copy of the book .
---
Radharani appeared and was pleased with Krishnadas's devotion. She took the anklet, manifested a deity from Her heart and gave it to Krishnadas. This deity is none other than of Radha Shyamsundar Ji.
Krishnadas returned back in his human form but had remembrance of it all. Also, the anklet mark on his head had become fixed. Every time he tried to remove it, it appeared again. He was in transcendental ecstasy after the entire flow of events and was not speaking to anybody.
When Jiva Goswami came to see him, he immediately understood it all and gave the name 'Shyamamdana' to Krishnadas and the mark on his head became known as Shyamanandi Tilak since then on. Followers of Shyamananda Prabhu wear this tilak even today in memory of this mercy of Sri Radha. 
Darshan Timing
Morning: 4 AM - 1 PM

Evening: 4.30 PM - 9 PM
Note: In winter, the morning opening darshan timing is half an hour late from that of the timing mentioned above.
How to reach?
It is just in very close proximity to Radha Damodar Mandir. Check How to reach Radha Damodar Mandir here.
Precautions and Safety Tips
We are sorry that this post was not useful for you!
Let us improve this post!
Tell us how we can improve this post?