Prasadam (or food) is not an issue here in Vrindavan. There are a lot of restaurants and local food shops in Vrindavan.
I have mentioned only the restaurants that don't use onion and garlic as Vaishnavas avoid these two ingredients from their prasad (food).
If you are coming to Vrindavan, I would suggest you to avoid consuming onion and garlic in your food till the time you are here.
Some of the good restaurants and food places in Vrindavan (in no particular order) are:
Agrasen & Dhenuka Ashram
For thali (or a full homely types meal), you can visit Agrasen or Dhenuka Ashram near ISKCON Police Chowki. Agrasen costs 100 rupees per thali, while Dhenuka costs 150 per thali, and they both serve you nice homely kind of prasad (food) with unlimited rotis, 2 types of sabzi, 1 sweet, rice, dal, pickles, salad, paneer, papad, ice-cream (extra charge). It really tastes good at both the places but some devotees have a preference for Dhenuka while others for Agrasen.
Hira Sweets
They opened the famous food chain and restaurant Hira Sweets in Vrindavan in 2021 end. They have a very nice variety of Vaishnav food including very nicely made cakes, sweets Puri Bhaji, Paneer, Naan etc. It has a very nice vibe, a modern interior and trained staff with ample parking space. 
ISKCON Govinda's restaurant
The food here is above average with some of the menu being super awesome, but to be very frank and honest, Govinda's is extremely over-priced. Even in Mumbai (which is considered as the most expensive city in India) at prominent malls and expensive localities, you will find food cheaper than this. Though, you will like pastries, samosa (super-awesome), Manchurian rice, Rajma rice, herbal tea, dosa and doughnuts here. The ambience is also soothing. It is located at the backside of ISKCON Krishna Balarama Mandir, just near to Srila Prabhupada's House.
MVT Restaurant
This is located on the second floor of MVT Guesthouse (behind ISKCON temple) and food here is really nice and healthy. They charge a bit more as it is mostly flocked by international pilgrims but it is worth it. Pizza and thali here are really fulfilling. The chefs and waiter here are western devotees serving with a lot of warmth and great hospitality.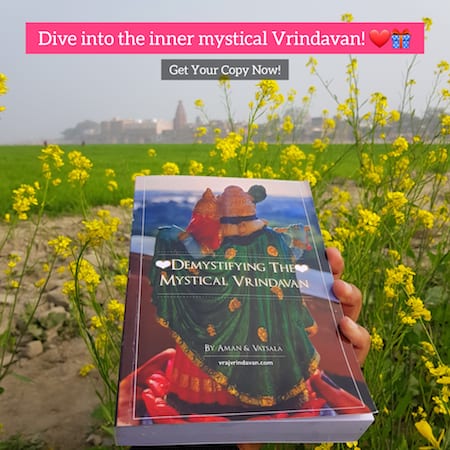 ---
The book 'Demystifying The Mystical Vrindavan' is the essence and crux of this entire website.
If you are considering to dive into the final goal of our Vedic Scriptures and spiritual life, and if Radharani inspires you, do get a copy of the book .
---
Banke Bihari Gali
Just as you step out of Banke Bihari Mandir into the narrow lanes, there are a lot of local shops with super amazing street food. Alu Tikki Chat, Masala Dosa, Lassi, Chaas, Golgappe, Vada etc. are some of the must-have food here. The spices and sweet sauce in the street food are bound to make you wow. Also, the ambience here is perfect for pouching on street food without any restrictions. There's a lot of rush in morning and evening as Banke Bihari Mandir is one of the most visited temples in Vrindavan.
Pizza Olive Hut
This is undisputedly the best pizza store in entire Mathura and Vrindavan area. You get a whole big list of various types of pizza. They make their own pizza base and it is something which is their USP. A lot of international as well as local pilgrims flock to Pizza Olive Hut on a regular basis. The burger here is also super crunchy and delicious to the core.
Agrasen Canteen
If you love alu parathas, this small canteen just to the right of Agrasen ashram (near ISKCON Police Chowki) is the perfect place for you. They also have gobi (cauliflower) and panner parathas, apart from the sandwich and other snacks. The alu paratha cost 10 per piece, gobi parathas 20 per piece and paneer paratha 35 per piece. The taste of parathas her is addictive and they even have many international Hare Krishna devotees as regular customers. Though it is open throughout the day, but the parathas are only available from 8 AM - 9.15 AM and 8.15 PM - 9.15 PM.
56 Delights
Dosa, Pakoda at 56 Delights restaurant is epic. They are a multi-cuisine restaurant with a wide menu list. The food here is good but prefer not to have pizza here as it is not good at all. They are on the slighter expensive side but the ambience is good.
Shri Rasraj Foods
This is a fast-food outlet located just a bit ahead of HDFC & ICICI Bank. It is good for pizza patties, veg patties and blueberry soda. The pizza here is also good. Shri Rasaraj Foods is pocket-friendly as well and fills you up with quick tasty snacks.
We are sorry that this post was not useful for you!
Let us improve this post!
Tell us how we can improve this post?