निजु प्रिय कीनी अपनपौ, तन मन रही समाई ।
तू मेरी है प्राण सखी, पोषत मन के भाई ।।
- श्री ललित किशोरी देव, श्री ललित किशोरी देव जू की वाणी, सिद्धांत की साखी (254)
श्री स्वामिनी जू ने मुझे अपनी निज कर, मेरे तन और मन में समा गयी, मेरे मन के भावों का पोषण कर, मुझसे बोलीं कि तू तो मेरी प्राण सखी ही है।
---
Niju Priy Kini Apanapau Tan Man Rahi Samai
Tu Meri Hai Praan Sakhi Poshat Man Ke Bhai
- Shri Lalit Kishori, Shri Lalit Kishori Dev Ju Ki Vani, Siddhant Ki Sakhi (254)
Shri Swamini Ju (Radharani) has accepted me as Her's and has stamped Herself in my body and mind. Fulfilling all the Divine-Love desires of my heart, She says, "Oh dear sakhi, you are very very dear to Me."
We are sorry that this post was not useful for you!
Let us improve this post!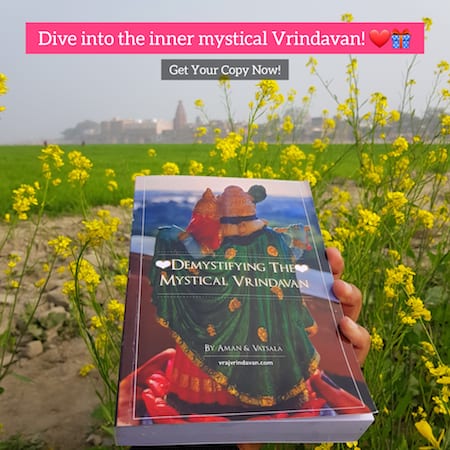 ---
The book 'Demystifying The Mystical Vrindavan' is the essence and crux of this entire website.
If you are considering to dive into the final goal of our Vedic Scriptures and spiritual life, and if Radharani inspires you, do get a copy of the book .
---
Tell us how we can improve this post?