The alu paratha is hot. There is hot air coming from it. The baba at Agrasen Canteen had just softly placed the plate with three alu-parathas in it, right on the table in front of me. A little monkey is sitting on the cage that surrounds the upper part of the ceiling and is staring at my parathas. Two seemingly early thirties devotees are sitting on the other table and talking about purchasing a flat in Vrindavan so as to take up permanent residence here.
I am looking at the grand picture of Radharani on the calendar just located on the wall adjacent to my table. She is indeed beautiful! She retains all my attention, and why not, She is our Queen (Swamini) after all! The essence of all worship, all chanting, all bhajan is just to remember our prana priya Swamini Sri Radha!
Radha... Radha... Radha... A voice is coming from within. Rasika Acharyas say that one needs to practice to take nama continuously i.e. every moment from within (It's explained here very deeply on how one can do this). Am just trying to take the names of my Srimati Radharani.
Had heard from Rasika Vaishnavas that if one takes the holy names for one year on the tongue internally, nama comes on the throat. If one takes the holy names for two years on the throat, then this nama enters the heart. This is called ajapa japa. At this stage, nama is going on in the heart of the seeker even when they are sleeping! That's called real taste for holy names in actual terms.
Coming back, I just take a look at my phone's notepad to see the pending worklist. It's morning around 9 AM and I had come to Agrasen Canteen for breakfast. On some days I prefer cooking and at times, I just quickly come here to grab some parathas to save time if the worklist is big.
Cooking really consumes a lot of time as I am very particular about the right ingredients, right-sized chopping of veggies, low flame cooking and all minor intricacies. Cooking normal khichdi takes me around 3-3.5 hours! It has to be cooked with love for Divine Couple. Isn't it? Hence, when the workload is much or if I feel a bit lazy, I quickly have my breakfast at Agrasen or order something from Zomato (of course from Vaishnav restaurants) to save time.
I don't have a fixed working schedule as such. Radharani has made me go on a path where I am apparently acting as a media consultant, internet entrepreneur, filmmaker and writer. But in real terms, I am Radharani's and Radharani is mine. This is what has been taught to us by Rasika Acharays and Guru Tattva.
So, I never plan my day's schedule or have any fixed time as such. Mostly, do all work impromptu as inspired by Vrindavan Dham or as requested by remote teams. Anyway in Vrindavan, all planning and plotting fail badly. Only those who stay here can understand this statement that all planning fails in Vrindavan!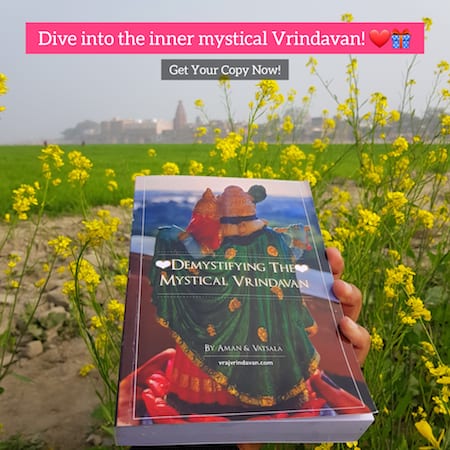 ---
The book 'Demystifying The Mystical Vrindavan' is the essence and crux of this entire website.
If you are considering to dive into the final goal of our Vedic Scriptures and spiritual life, and if Radharani inspires you, do get a copy of the book .
---
So, after looking at the checklist, I find today's work list a bit easy as had done a major portion of work in the early morning around 5 AM itself, and hence in an apparent relief, I offer the alu-paratha mentally to my Divine Couple, Guru Tattva and feed myself a bite of alu paratha. It's good. The important thing is it's hot. 
Simultaneously, just check my mail-box and open a few Instagram accounts of my different ventures. A DM on Vraj Vrindavan caught my attention. It said that "Prabhu, Can you put all daily pictures, videos, and articles on Vrindavan?" 
A random thought came to my mind that Sriji might be guiding something via this. What if I attempt a daily diary series or something of that sort where I myself remember Vrindavan Dham every moment? I have clearly stated in the About section as well that Vraj Vrindavan is only for my personal meditation on Sriji, Vrindavan Dham, my Guru Tattva and not for anybody else. To be frank, haven't even promoted it and it has just grown up all on own with least effort. I am no way into preaching or stuffs like these. If somebody finds a direction or becomes happy remembering Vrindavan via this site, it's up to readers and Radharani and nothing related to me if I have to be very very honest.
Anyway, just to be sure that if the audience needs something like this, I put a poll on Vraj Vrindavan Instagram Story. The rule of branding and digital eco-system is that your audience will tell you what to do. You can check my other initiative freeonlinecourses101.com to learn multiple digital skills, branding hacks, creating a website, mobile film making or if you want to build your independent digital paying career.
As I came back to the room, checked my 5 work list sheets, board, and was like I have a lot of time today. So, it popped in mind that let's go sit somewhere and chant more. Ter Kadamaba sprouted in the heart. Just called a friend and asked him if he wanted to accompany, as he had mentioned to ping him if I am leaving towards Barsana side. Btw, I mostly visit some places on a daily basis in Vraj Bhumi as inspired impromptu by Sri Vrindavan Dham. Hearing Ter Kadamba, he is like yay, yup yup.
Again, picked up the keys of Swamini Prerna (those who follow Vraj Vrindavan Instagram story know that Swamini Prerna is the bike that Radharani has provided me for travelling in Vraj. The meaning of Swamini Prerna is one who inspires us to our Swamini Sri Radha).
Then, I simply drive near the ISKCON Gate where the puncture and air pressure shop is located, get her air pressure sorted as the distance from Vrindavan to Ter Kadamba is 40 KM (via a shortcut route, but via the main road, it's around 50 KM). Along the way, picked up the friend, get Swamini Prerna refilled and begin the 45-minute drive via the Agra-Delhi Highway.
There's also an interesting thumb-rule in Vrindavan for sincere seekers. Kirtan needs to be played here 247. It's better that the kirtan is led by a pure devotee as shudh harinam has the potency of prema-bhajan. You can read the inner details about it here on what is the importance of shudh harinam sankirtan.
Along the way, we keep singing and humming Hare Krishna Mahamantra and Radha Nama. 
Ter Kadamba is a very confidential place. As we reached there, found out that little children from Bhaktivedanta Gurukul had come there for a yatra (trip). They were singing Gaudiya Vaishnav Bhajans and Hare Krishna Mahamantra, while we were chanting our rounds. There's a big secret of Ter Kadamba. 1 mala (round) at Ter Kadamba gives the result of 9000000 mala. It's already explained in Advanced Guide to grow 1000x spiritually.
I will take a pause now. It's already around 11.45 PM here on Feb 15 and even though I wanted to write more, but will take a break here as am feeling extremely sleepy and tired. It has been a long day. Had driven more than 100 km, completed much work apart from spending 4-5 hours at Ter Kadamba.
This article is just an experiment to see how the audience reacts to it. Let me know in the comment or on Instagram DM if you have any suggestions or want such daily digital diary series. My prime intention behind this is just to keep thinking about Vrindavan even while writing this. Of course, I will only write a few selected parts as inspired by Sri Vrindavan Dham and which are connected with bhajan primarily.
If the audience encourages, will write daily. DM on Instagram if you like the content of this digital diary and want me to continue this. Anyway, as guided by Rasika Acharyas, I regard every visitor on this site or anybody I meet in daily life as form of Sriji Herself.
This digital diary series came into existence just because somebody sent a DM and requested to shoot and write everything on Vrindavan. So, I thought that Sriji might be guiding. Up to Her on how She wants it to be executed. That's how even Vraj Vrindavan was started impromptu on October 8, but I began posting regularly only in late December, and finally revealed about Vraj Vrindavan to all on Jan 24. In a short time of 4 months, we already have a global audience. All is Sri Radha for us. 
The content on the website is our crux. Do check our daily articles for sure if you feel inspired by Sriji from within. Our Instagram Page is very colourful and the Stories there will help you remember Vrindavan via pics and videos. Guru Tattva knows better why they are making me do this. All this is nonsense, to be frank. Better is if one chants nama-japa or sits in nama-sankirtan sincerely rather than spending time here or digitally.
Jai Jai Shri Radhe!
Hare Krishna!
We are sorry that this post was not useful for you!
Let us improve this post!
Tell us how we can improve this post?