Feb 28: Had gone to Barsana last day (Check the last day's diary here). Had returned around 12 midnight after attending two sankirtans. The first one was from 6 PM - 8 PM by Ramesh Baba Ji and then from 9.30 PM - 11 PM by Vinod Bihari Baba Ji.
They are amongst very few Rasika Vaishnavas in Vrindavan who mercifully meet seekers, and do sankirtan and give short lectures to guide and inspire all to inner confidential vraj-prema-bhakti.
They are not ordinary and I don't really have words to explain the intensity of gratitude we vrajvasis have for them. (It's explained in brief in this Barsana Guide. Maybe will write their detailed sketch later whenever Sriji inspires).
As had returned late last night and was working with other projects after returning back, had slept around 2.15 AM. There might be some devotees reading this and raising their eyebrows about this weird schedule, and that too in Vrindavan.
Well, those who live in Vrindavan or have lived here only can understand that planning and plotting go for a toss here.
Tried sticking to timeline in the first few months when I was allowed to mercifully shift here (Dec '17) but realised with time that everything and every single plan goes topsy turvy here. Vrindavan Dham teaches you to totally depend on Lordships and have no plans for even next minute, what to speak of days.
Have explained the inner secret of planning and plotting in Vrindavan in one of the earlier digital diaries. You can read it here. I am sure you will find something confidential here. Was taught about this from Rasika Acharyas and since then have dearly adapted it in my daily life.
Feb 29: Had gone for Radha Kund Snan in the afternoon and did my rounds (nama-japa) there. Btw the mood in which one does bhajan at Radha Kund is the mood in which one will return back to Goloka Vrindavan.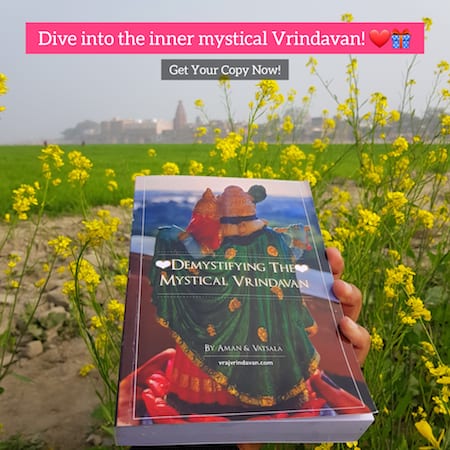 ---
The book 'Demystifying The Mystical Vrindavan' is the essence and crux of this entire website.
If you are considering to dive into the final goal of our Vedic Scriptures and spiritual life, and if Radharani inspires you, do get a copy of the book .
---
One should read this order of books and do intense nama japa to dive in this inner confidential path. You should also definitely read this Advanced Spirituality Guide. I was made to compile this by listening to Rasika Acharyas. It might help you extremely. The rest of the day was full of work and so-called professional engagements. 
March 1: Went to Bhandirvan to do my 16 rounds of Hare Krishna Mahamantra (Read Bhandirvan Guide & Story here). The baba there was narrating us some passtimes and mentioned that there is a devotee who organises a big marriage festival of Radharani and Krishna every year. It is like a big grand marriage ceremony. There is music, food stalls, puja and decorations and everything is grand about it. I am awaiting to attend it whenever it happens this year.
Sriji inspires me to go to Bhandirvan like every 2-3 days and frankly, I really love Bhandirvan. Again, it is one of the most rarely visited but amogst the most confidential places of entire Vraj Bhumi. 
March 2: Woke up and realised that groceries and vegetables in my kitchen are finished hence did the needful by going out and purchasing it all. Prepared the bhoga (prasadam) for my Lordships, did my rounds and was working the entire day.
In between, heard a few lectures by Rasika Acharyas as well. Was also inspired by Sriji to edit the video of Barsana Trip done on Feb 27. Editing it took around 1 hour. It has inner darshan of Ras Mandap, one of the most confidential places in Vraj Bhumi. You can watch the complete Barsana cinematic video here.
Also, the Vraj Vrindavan Android App might be on play store very soon (might be tomorrow itself). It is awaiting the final approval from Google which is a simple process but takes some time for new developer accounts (Had created a new one for Vraj Vrindavan to keep it separate).
It's 10:40 PM already and Radharani is inspiring me to respond back to the unanswered messages all over, emails and complete other pending work. I am half sleepy already.
This is how life in Vrindavan Dham is!! I had never even thought about doing such a task or this website with daily discipline 2.5 months back. Joi Joi Pyaro Karo Soi More Bhave (Whatever my Queen Radharani desires is my only will)...
Jai Jai Shri Radhe!
Hare Krishna!
We are sorry that this post was not useful for you!
Let us improve this post!
Tell us how we can improve this post?